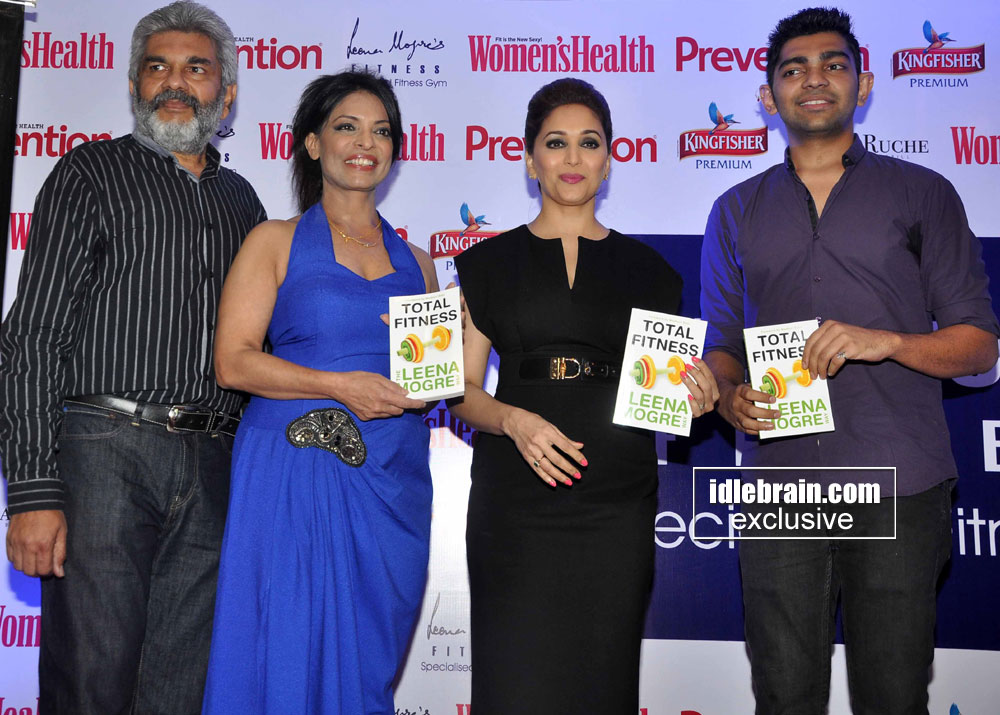 01 May 2015
Hyderabad
One of the pioneers in the health and fitness industry, and the first to introduce the idea of celebrity fitness in India, Leena Mogre is an institution in herself. Her first book titled 'Total Fitness – The Leena Mogre Way' published by Random House India and Penguin India was launched by celebrated Bollywood actress Madhuri Dixit at Leena Mogre's gymnasium located in Bandra.
Leena Mogre is armed with a Masters in Food and Science & Nutrition and Sports Nutrition; regaled the guests and media present with incredible anecdotes of success stories. She started her journey in the fitness industry over two decades ago and her own signature brand of fitness centres over a decade ago and has over the years trained and guided actors like Ranbir Kapoor, Kareena Kapoor, Bipasha Basu, Deepika Padukone, Jacqueline Fernandez, Katrina Kaif, Soha Ali Khan and Aditya Roy Kapur to her credit.
Madhuri also mentioned how Leena's guidance and expertise led her to being fit and fabulous. Madhuri who has penned the foreword in Leena's book said, "I have known Leena since my 'Hum Aapke Hain Kaun' days. She was my first trainer and has helped me understand my body and how important it is to look fit and feel healthy. She has shared her wealth of experience and knowledge in this book to help you achieve 'Total Fitness' by learning and adapting from it. Her passion reflects in the book."
Leena Mogre said, "This book brings you comprehensive and distinctive insider secrets – everything from the myth of size zero to assessing your actual strength and fitness before starting out, and finding your comfort zone and pushing beyond it gradually to achieve complete fitness. It is the perfect guide for anyone looking to get fit the right way."
Several well-known guests like Candice Pinto, Diandra Soares, Neeta Lulla, Madhur Bhandarkar, Kiran Juneja and Ramesh Sippy, Chhaya Momaya, Manali & Dilip Vengsarkar, Shilpa Shirodkar, Vithal Kamat, Anirudh Dhoot, Baba Siddiqui, Ashish Shelar, Poonam Mahajan, Asif Bhamla, Nitin Sardesai, Vishwas Nagre Patil, Ashish Chaudhary, Meghna Ghai, Timmy Narang, Akshay Oberoi and more were in attendance to support and encourage Leena's new initiative. The book launch event was followed by an after party at Bandra's newest bar-and-grill 'La Ruche' over delish snacks, cocktails, fab music and was hosted by Amrita Pursnani and Rohan Rampal.
Leena Mogre currently has a 24x7 well equipped and functional gymnasium in Bandra (W) and another one in Dadar (W), Mumbai. She also has a signature fitness centre in Chandigarh.