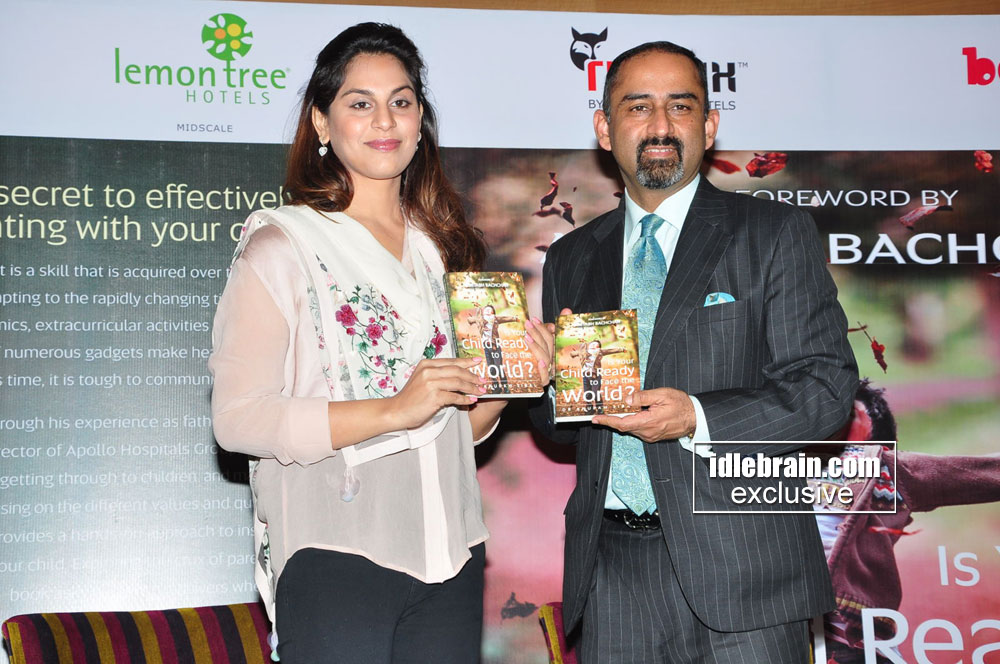 26 January 2015
Hyderabad
Upasana Kamineni releases a book on parenting by renowned Pediatrician Dr.Anupam Sibal!

Upasana Kamineni released the book "Is Your Child Ready Face the World' authored by Dr Anupam Sibal, Group Medical Director, Apollo Hospitals at Hyderabad. The book was published by Penguin.

At the book release program Upasana said, "We need to engage with children more than ever before as our society has changed so much. Conventional parenting needs to be adapted to meet the expectations of the present generation. To communicate with today's generation one needs to understand how they think, how they relate and this book will help parents understand the key to communicating with this generation" she added. At the outset I am surprised at being invited for this release, as I don't have a kid yet and I am not a parent yet. I and Charan though love kids. For me, my sister-in-law Sushmita is the best mom, she is an inspiration for me, and my cousin Sindhura she does an amazing work home balance, they are my role models as mothers. The world has changed since we were children, baby's have FB account and are in social media, today's kids are born stars. Lot of this generation kids are chubby, parents should counsel them on weight maintenance. To do that parents should be friends to children. You should know what you are getting into, therefore special emphasis is being laid on parenting, some couples go abroad to learn parenting. Parents need to concentrate on kids in the age group of 1 to 5 years, that's when the child's brain develops, spend more time with them during this period. In her parting comment she said, 'This book will help my children to decide whether they want to become actors or doctors."

"We all want our kids to grow up happy and optimistic. We want them to experience the world as a safe place where anything is possible and all their dreams come true. But, how does one prepare a child to face the world? How does one communicate with a generation that just does not have the time to hear, leave alone listen?"said Dr. Anupam Sibal, Group Medical Director, Apollo Hospitals Group and Senior Pediatrician. He has drawn on his experience as a pediatrician and parent to create this offering.The book focuses on the various values and qualities that mould children. It explores the crux of parenting, and answers the million-dollar question – "Is your child is ready to face the world?"

Mr. Amitabh Bachchan has written the foreword. In his words, "Ever so rarely, you come upon a book that is timeless."

Blurbs have been received from across the globe: Verne Harnish, CEO, Gazelles; Jim Cliffton, Chairman and CEO, Gallup; Ms. Madhuri Dixit Nene and Dr. Shriram Nene; Mr. Navjot Singh Sidhu; Mr. Kapil Dev and Brahma Kumari Sister Shivani among others.