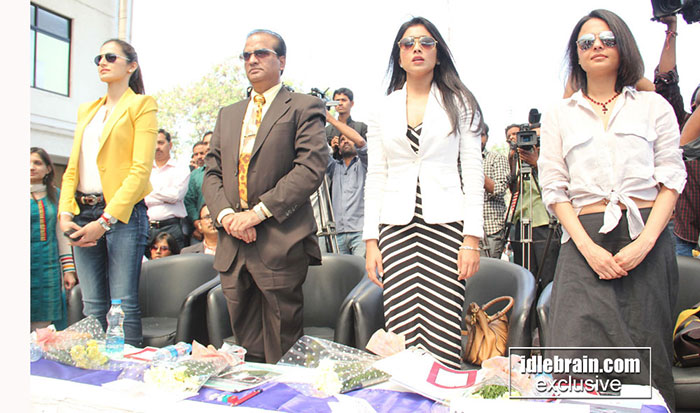 · The show was adjudged by an eminent panel of Ms. Shriya Saran, Ms. Shilpa Reddy, Ms. Asmita Marwah & Dr. Vijay Anand Reddy.
· NIFT was declared the winner and Raffles Millennium International the Runner-up

APOLLO CANCER HOSPITALS hosted 'Apollo Cancer Hospitals Fashion Show on Cancer Prevention' - an unique fashion show on the occasion of World Cancer day on Monday at Apollo Hospitals, Hyderabad. This fashion show for a cause was hosted to send a strong message to the youth on lifestyle modifications necessary to prevent Cancer. NIFT was declared the winner and Raffles Millennium International the Runner-up.

The dazzling show with the theme of cancer prevention had students from top fashion institutes in the city - National Institute Of Fashion Design (NIFD); National Institute Of Fashion Technology (NIFT); Hamstech Institute Of Fashion & Interior Designing; Lakhotia Institute Of Design and Raffles Millennium International, vying for best design themes conveying the message of cancer prevention most effectively.

The designs presented by a bunch of promising upcoming fashion designers was adjudged by an eminent panel comprising of Cine Actress Ms. Shriya Saran, Fashion Designer & Former Mrs. India Ms. Shilpa Reddy, Fashion Designer Ms. Asmita Marwah and Dr. Vijay Anand Reddy, Director, Apollo Cancer Hospital. The jury selected the top two themes presented by institutions.

This most fashion forward event ever on prevention of dreaded cancer had students stretching all barriers of imagination in depicting five themes each, representing Cancer prevention through fashion designing. The five cancer prevention themes were 'No Smoking or Chewing of tobacco', 'Moderation in alcohol consumption', 'Enhancing vegetables and fruits component in diet', 'Avoiding fried and non-veg foods' and 'Making adequate exercise a lifetime affair.

According to Dr Vijay Anand Reddy, Cancer incidence is growing alarmingly and the recent phenomenon of youth being victims of the dreaded disease is a matter of grave concern. The prime cause for this rise is adoption of improper life styles and Cancer being termed as life style disease is no more a misnomer, he says.

According to studies most Cancers today are because of Smoking or Chewing tobacco, excessive alcohol consumption, less of vegetables and fruits in the diet, more of fried food and non-vegetarian in the diet and lack of adequate exercise. Majority of the Cancers are preventable if one can modify life style. If we can modify our life styles, we can prevent almost 2/3rds of Cancers. To create awareness on life style modification, we are hosting this unique Cancer Prevention theme based Fashion Show on the occasion of World Cancer Day, says Dr Reddy.

We run cancer awareness campaigns to sensitise the community, but the percolation of the message amongst the youth seems to be disappointingly minimal. This fashion show is our endeavor to communicate the message in the way the youth understands the best, says Dr Vijay Anand Reddy.

Shriya Saran speaking on the occasion said, it was a great effort to spread awareness by the fashion design students. This is a beautiful marriage of Fashion and message.

The enthusiasm shown by the students is commendable, their creative says it all, said Shilpa Reddy. Asmita Marwah said they are very talented and creative, have put across the message succinctly.

The eminent jury was amazed at the talent these students of fashion designing had and were surprised at the visual treat the fantastic array of designs, portrayed at the show. The jury had tough time in deciding on the winners.