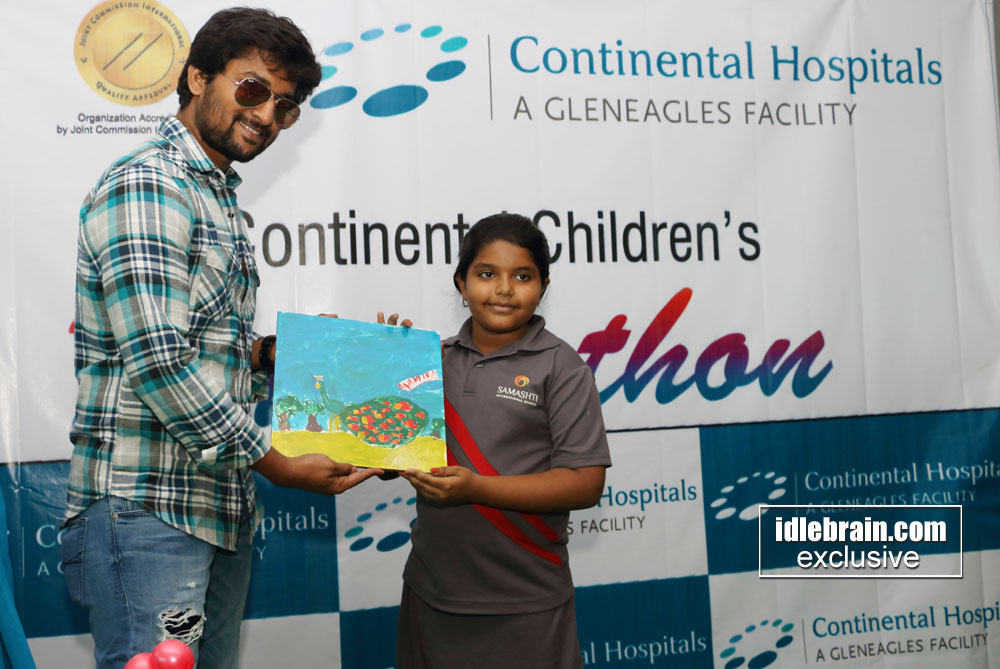 14 November 2015
Hyderabad
On the occasion of Children's Day, Continental Hospitals in association with Samashti International School and 'Teach for Change' organized 'Continental Children's Paintathon' on 14 November 2015 at Continental Hospitals. The objective of the paintathon was to offer an opportunity for the students on a big stage to unleash their hidden potential. More than 200 students participated in the paintathon and made it a huge success. Paintathon offered a unique platform for all the participating students to showcase their painting talent – which was quite evident from the fact that many students unleashed their creativity with some amazingly masterful strokes and eventually sketched some wonderful masterpieces. Shilpa Reddy, an eminent fashion designer & model and Cine Actor, Nani graced the event as chief guests. Dr Guru N Reddy, founder and chairman, Continental Hospitals and Harish Manian, Chief Operating Officer, Continental Hospitals acknowledged the creative abilities of the students and appreciated their work as all the students received their certificates. Dr Anjul Dayal, Senior Consultant Paediatric Intensivist, Continental Hospitals encouraged the students for their enthusiasm.
About Continental Hospitals
As a part of Parkway Health Singapore, located in Gachibowli, Hyderabad, Continental Hospitals is a 750-bed, State-of-the-art, Multispecialty, and Tertiary Care Hospital. Driven by interdisciplinary collaboration and innovative practice in the field of medicine with rapid diagnosis of the disease and treatment, Continental Hospitals provides quality care to all patients at all times at affordable prices. Continental has 21 Modern, State-of-the-art, Specialty-specific, Modular Operation Theatres and world-class ICU's with the latest monitoring systems, infection control and safety systems, which offer ultimate care to the patients. Continental Hospitals also boasts of one of the largest emergency centers in the country with more than 27 beds manned by a Rapid Action Team. With the Level 1 Trauma Centre offering 24x7 Emergency Care; we have treated hundreds of critically injured, major trauma cases with lowest death rates.
Continental Hospitals is the FIRST in India and also the FIRST Multispecialty Hospital (with Oncology) in the world to get "Joint International Accreditation" (JCI) in less than 2 years! Continental Hospitals is also accredited by NABH.
Parkway is one of the region's largest integrated private healthcare groups with a network of 22 hospitals and more than 4,000 beds throughout Asia, including Singapore, Malaysia, Brunei, India, China and Vietnam. It is fully owned by IHH Healthcare Berhad, which is the second largest healthcare group in the world by market capitalization and is dually listed on the Main Market of Bursa Malaysia and Main Board of SGX-ST.