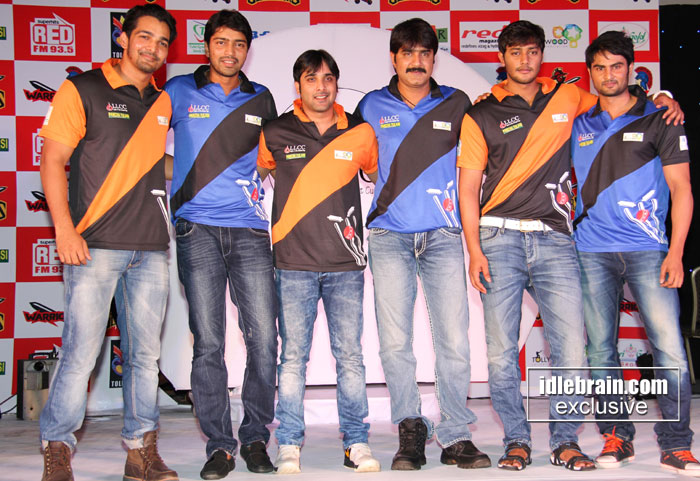 25 May 2013
Hyderabad
Hyderabad, May 25, 2013: Light A Life Cricket Cup (LLCC) an initiative to support education of rural girl child by Event Management Company - Team Solution Factory, was formally inaugurated by Tollywood Stars Srikanth, Tarun, Allari Naresh, Prince, Sudheer & Harshvardhan Rane, at a glittering ceremony on Saturday at Hotel Green Park. Also present on the occasion were Srikanth Reddy, Managing Director & Syed Qamar, Executive Director of Team Solution Factory. A fashion show which launched the Jersey & ticket of the LLCC.
Tollywood's Young Cricketers will take part in the Light A Life Cricket Cup jointly organized by the Tollywood Cricket Association, Team Solution Factory and Tulsi Gramodyog Seva Samiti (TGSS) on June 9th, 2013 at Vishakapatnam. This match will raise funds to support initiatives of TGSS including supporting education of rural girls, an old age home and an educational Institution for physically and mentally challenged people at Adilabad in 50 Acres land, which government has allotted in 2009.
Around 35 stars are gearing up to play LLCC T-20 match on 9th June, 2013 at Vizag. The two vying for the cup will be led by Actors Srikanth & Tarun. Star actors to be seen in action at the match are Srikanth's Team – Giri, Naresh, Bhupal, Nandakishore, AAdarsh, Ashwin, Karthik, Prabhu, Nikhil, Samrat, Sudhir, Shivaji Raja & Rajeev.
Tarun's Team – Nani, Sharva, Vishwa, Prince, Tanish, Harshavardhan, Ajay, Khayyum, Raghu, Ayyappa, Charan Tej & Aditya.
Actresses Charmee, Aksha, Kamna Jethmalani, Veda, Soniya, Madhu Shalini, Sanjana and many more will be present to cheer the teams they are supporting. Baba Seghal will regale the audience at the stadium.