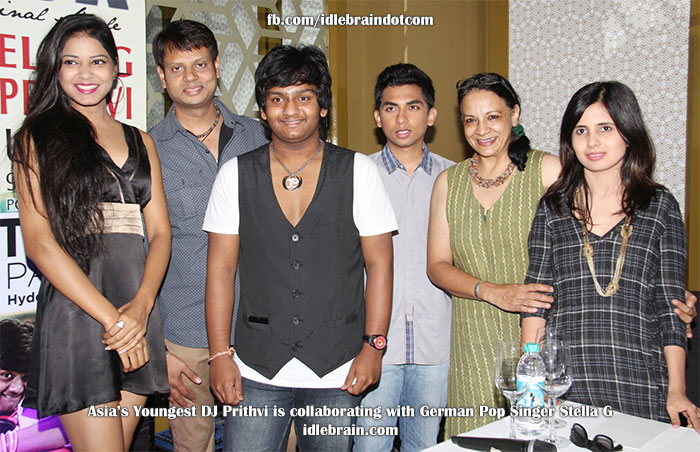 09 October 2013
Hyderabad
STELLA G is an International Pop Singer, Fashion Icon from Germany, collaborated with DJ Prithvi, India/Asia youngest DJ for an Original Single Album "BEAT THE BOX". As this track is under completion and is going to be released on 19th October, 2013 in Hyderabad. As a part of this curtain raiser event held at The Park, Somajiguda. Dj Prithvi, Hyderabad Socialites Seema Azaruddin, Chaitanya MRSK, Super Model Deborah Doris Fell, Sameera from Park Hotels and DJ Ananth unveiled Album & Launch details.
"Its glad to work with German international pop singer, and Remix for "BEAT THE BOX" together" said Prithvi .Stella G Following my Remixes Music from the Music Sites, She got impressed with me and contacted through Facebook and came out with her wish to work with me for a single album. I was looking for an opportunity to go International, luckily got a chance to work with stella G" Prithivi added.
The honourable Chairperson, Priya Paul (who was a proud recipient of Padmashree for her outstanding contribution in the field of hospitality and who is also a connoisseur of art, design and food), was also excited over the idea of being the hospitality partner for this event. Also, Mr. Vijay Dewan, the Managing Director for The Park Hotels – India, who is also a prime supporter of fashion and art is excited to be able to help this show'' he said.
BEAT THE BOX - to be launch at THE PARK HOTEL, Hyd
BEAT THE BOX is new original Sigle Track sung by Stella G Feat. DJ Prithvi, who has composed the music and he will be the first Indian DJ, collaborated with an International Pop Singer. Stella G will be visiting India for the first time and will be performing live for 2 remixes, officially done by DJ Prithvi for Stella's Album "COSMIC ENERGY" and also launch their new original Single Album "BEAT THE BOX" for the first time by performing it live. The Event is Powered by "The PARK Hotels", Hyderabad and brought to you by "Brand Nation" and Seema Azaruddin.
Highlights on Launch event
1) Stella G will be performing live along with DJ Prithvi for 2 tracks of Remixed versions, offcially mixed by DJ Prithvi - "Catwalk" & "Venus Power" from previous album "COSMIC ENERGY".
2) Along with "Catwalk" a Fashion Show, showcasing Haute Couture collection, by a famous Fashion Designer - Soham Chakraborthy from Kolkata will be staged followed by Venus Power Track.
3) After the 2 performances, a Fashion Show with Indo Western Collection by Mansi Agarwal will be showcased.
4) Stella & Prithvi will perform Live again and Lauch their new single Live. This is going to be a World Wide Premier of "BEAT THE BOX", launching from India.
About DJ PRITHVI
Prithvi, is a 16 years old Asia's only youngest DJ, started his career as a DJ at the age of 10 years in 2008. He has raised many eye brows with his unbelievable Music talent & sensibility in Music. He has performed in many popular clubs in India and rocked at every party he played, Won many hearts & has appalled the crowd since 5 years. Being the only youngest DJ in Asia, he has released his first International Album "MASTER BLAST" at the age of 13 years in 2011 on Sep 3rd in Pune. MASTER BLAST is the first commercial House Music Album released by a DJ at the of 13 years in the world. It is the first House Music Album, released by an Indian. The Album was released through World Wide Records. He also became the Youngest Bollywood Remix Producer, who has done 3 official Remixes for a Bollywood Movie "LOGIN" at the age of 14 years.
About STELLA G
Stella G is an International Pop Singer and Fashion Icon from Germany. She was the Member of the Groups: 1. Prosechos (Germany) 2. Polygon (USA). She Performed All Over Europe: ... Germany, Spain, Swiss, Austria, Italy..., in USA, Dubai... a.o. She takes off around other stars to make competitors. Electro, R&B, Dance, Modern + Internationally. She has plans to storm the Charts in Europe, USA+ UK! Since from the end of 2012, Stella G is promoting her latest Album "COSMIC ENERGY" all around Europe/USA/Australia and Asia, with The Summer 2012 Tour of Stella G in Europe/UAE.