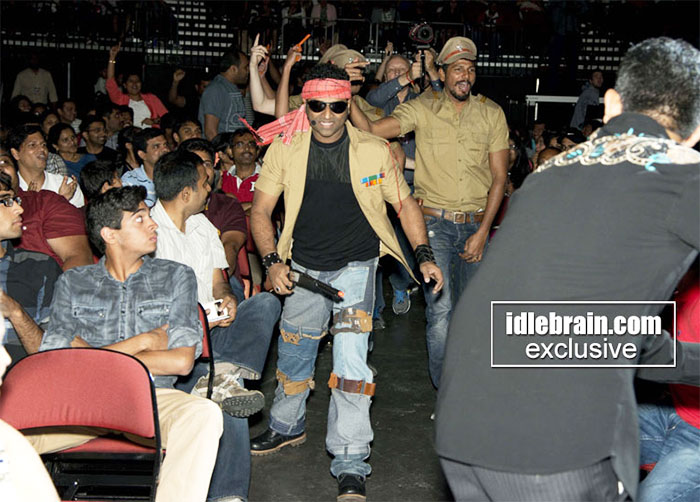 05 August 2014
Hyderabad
When DSP made New York City Fire Fighters nervous?
iDream Media, Aug 4th 2014:
And Finally... August 2nd... The D Day arrived, unfolded and how?
Music lovers had a dream date with the Music Wizard Devi Sri Prasad (DSP). The 50,000 Watts Music that DSP belted out and the sheer energy of his performances was enough to set the Hudson on fire.
The Grand finale of DSP's US Tour 2014, at the Prudential Center arena was everything it promised to be and more. The icing on the cake being that it was DSP's birthday. DSP's performance had that extra edge and the crowds were left asking for more.
On his special day, DSP presented something unique and what he specially labored to create for months, a musical tribute to his idol and Pop Superstar Michael Jackson (MJ). It was a class act and one which will be cherished by music lovers and MJ fans, for a long long time to come.
DSP also offered a completely new song from his upcoming Pop Album. He performed a fusion version of the stupendously popular Jalsa track of Power Star Pawan Kalyan. It was unadulterated joy as his orchestra team played on unconventional props and random objects to create foot tapping music.
The show then shifted gears and DSP reminisced how his earlier years were influenced by the musical genius of Ilaiyaraaja. His Biggest Idol yet, other than Michael Jackson, DSP recalled how Raja Sir was someone who made the audiences relish and hum, not just his music tracks, but even his back ground scores. DSP said how he was inspired to come up with a memorable background score himself. He got one of the American Cello musicians whom he handpicked from New York, to play the notes of one of his favorite back ground scores from his own works, from the film '1 - Nenokkadine' of Super Star Mahesh Babu. The Audiences just loved it. Then it was the turn of another amazing Saxophone artist to demo his skills on DSP's notes.
Soon, DSP took the audiences down memory lane and through his musical journey with his chart busting music for each of the South Indian Super Stars. The crowds were ecstatic as DSP and his team of fabulous dancers and amazing musicians from India and America, grooved, gyrated, rocked and thundered before thousands of strong audience, to the magical light effects of the spectacular Prudential center arena.
After four straight hours of thumping music and pumping sound of DSP, the crowds were in a state of musical nirvana till into the late hours, as the curtains came down on one of the most powerful musical acts in recent times for South Indian audiences in US.
Right after the concert, DSP celebrated his memorable birthday on a luxury cruise, with his crew of musicians, dancers, friends and well-wishers, on the by now musically intoxicated waters of the Hudson River, overseeing the fantastic skyline of Manhattan, New York.
The DSP Grand Finale was a proud moment for the organizers iDream Media and Radio Khushi.
Radio Khushi, Thirumal Reddy, who organized the DSP US Tour 2014 in all six cities over the last four weeks, and the finale along with iDream Media in NJ, truly raised the bar for South Indian Live Music Concerts in the US.
For iDream Media, who also organized the Maestro Ilaiyaraaja, his First Ever Concert in US, at the exact same venue, last year in Feb' 2013, this is another feather in their exalted cap. Chinna Vasudeva Reddy, CEO of iDream Media expressed his extreme delight at the opportunity to organize these two wonderful musical events in successive years and partake in the glory.
iDream Media and Radio Khushi, thank DSP, all his artists, each and every volunteer, especially Manju Bhargava, Veni Chinna, Damu Gedala, Mohan Kotapati, Satya Nemana, Mohan Pendyala, Sarath Veta, Arun Kumar Layam, Sri Atluri, Deepak Ravella, Govardhan, SS Reddy, Jagadish Malreddy who worked passionately and relentlessly over the last few weeks to make the DSP show a great success. Here's to the Joy and Power of Music!!!