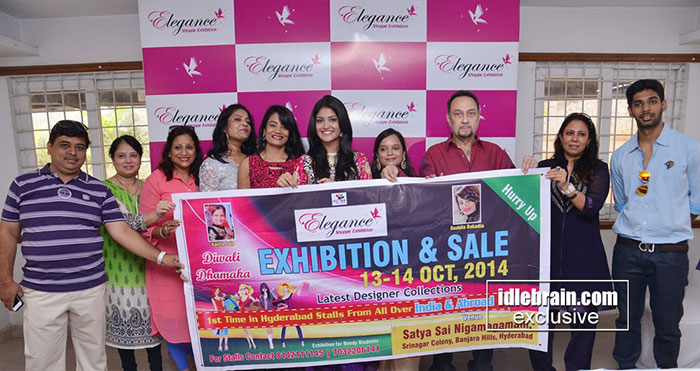 11 October 2014
Hyderabad
Elegance a 2-day Shopee Exhibition to be held on 13th & 14th October 2014 at Sri Srisatya Sai Nigamagamam, Sri Nagar colony,Hyderabad. As a part of this,curtain raiser Event held in Secunderabad. Hydeabad Socialite Sushila Bokadia,Kavitha Jain- Organizer, Unvelid the Poster and announced details.
"Platforms such as this are required to reach out women looking for well-designed Saris,life style accessories,Elegance believes in bringing the latest Trend to the people" Sushila Said.
"With an objective of promoting designers and also benefit customers, especially creative and fashionable women" organiser Kavita Jain added. Featuring a wide range of designer wear, fashion accessories, jewellery and lot more, with stunning apparel and sporty accessories'' she added.
"Exhibiting Variety and richness of several craftsmen, designers & creators Products. designers from Mumbai, Bangalore, Jaipur, Delhi, Chennai, Kolkata, Hyderabad, Ahmedabad & other parts of the country'' she said.
Socialites, Page 3 People, designers, graced the event.