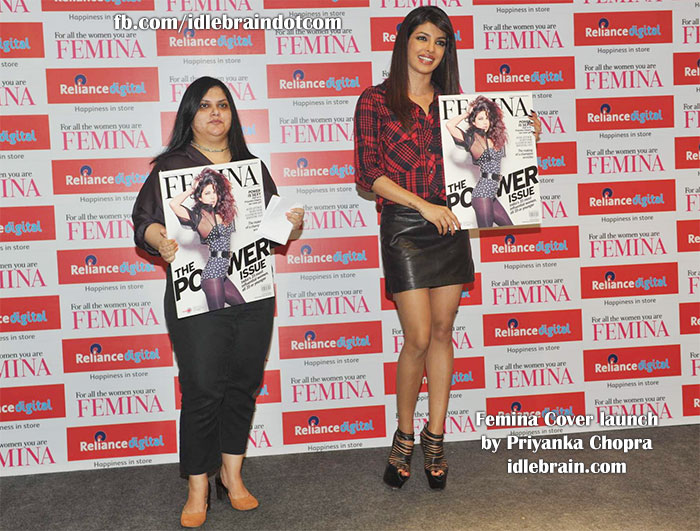 6 September 2013
Hyderabad
Femina's much-awaited annual Power Issue is out. This year, the issue salutes the young and the powerful. It features 35 extraordinary women, aged 35 or younger, from diverse fields like sports, politics, films and music, who have made an impact and courted the spotlight.  

Besides covergirl Priyanka Chopra, who is back with big releases, and whose recent single Exotic was chosen as the official theme song for the Guinness International Champions Cup, the list includes names like IAS officer Durga Shakti Nagpal, archer Deepika Kumari, Arunima Sinha, the first woman amputee to climb Mt Everest, singer Sona Mohapatra, filmmaker Soundarya Rajnikanth and shuttler Saina Nehwal, among others.      

Says Tanya Chaitanya, Editor, Femina, "Femina believes in the power of the young. Our Power Issue this year celebrates 35 women under 35, women who are influential enough to change the system, women who have the courage to question those who run the country, women who make the world sit up and notice India. Hats off!"
Adds the Reliance Digital Expresson their association with Priyanka & Femina,"Reliance digital has been consistently associated with Priyanka in her numerous endeavours to spread "Happiness", be it with her album & video launches or her special meeting with 'specially-abled children'. Priyanka represents the woman of today who is successful, confident and is here to make a difference. Reliance digital is proud to partner her in her efforts.
Femina is a magazine meant for the woman of today and seeks to empower women in various ways. Reliance digital is an electronics store for the entire family including a variety of products specific for women (home care, kitchen care, personal care etc). Through this association, Reliance digital reinforces its commitment to keep offering the latest & the widest range of electronics meant for women."

About Femina
Femina was first published in July 1959. For over 50 years now, India's first and largest read women's magazine in English has been the definitive life and lifestyle guide for progressive woman. It is owned by Worldwide Media, a wholly owned subsidiary of the Times Group.  Femina, published fortnightly, features articles on women achievers, relationships, beauty and fashion, travel, cuisine and health and fitness.