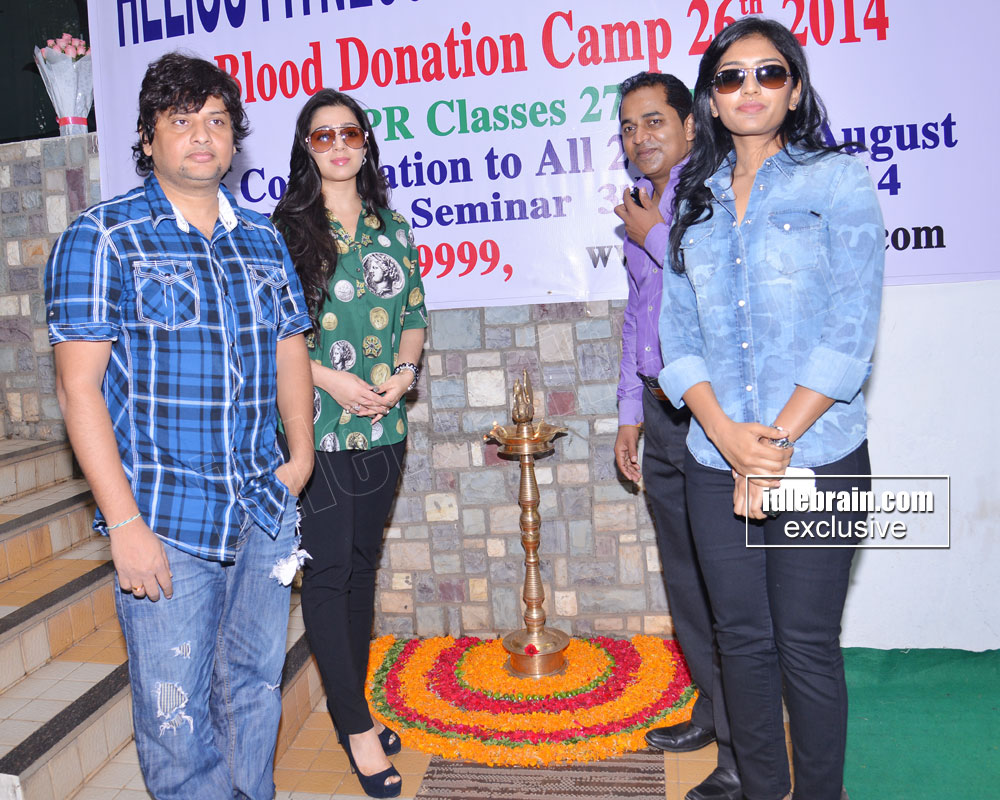 26 July 2014
Hyderabad
Helios Fitness Center known to be one of the prominent personal training gym in Hyderabad took an positive initiative towards spreading knowledge on fitness, its safety precautions, social responsibility, on an intention to educate and spread awareness. Our very own Celebrity Trainer M. Chandra Shekher Reddy, who has above 20 years of experience in the fitness industry, felt the need to encourage, and motivate the fellow fitness professionals to guide the industry towards a positive direction.
As part of awareness HELOS FITNESS CENTER IS conducting below events in coming week.
1. Blood donation camp – on 26th
2. CPR Classes – 27th
3. Free consultation to all from 28th
4. Trainers Seminar by top Trainers in the city on 3rd
Helios Fitness Center looks forward to bring new intervention among the trainers and fellow fitness professionals to bring change to set new examples of fitness practiced ethically with safety measures.Today the event was inaugurated by our chief Guest noted Film Director Mr.P.Surender Reddy and also he was the first one to donate the blood at Blood donation camps which was a part of Fitness Awareness week which started today. Ms.Charmme and Ms. Ishaa (actresses) lighted the lamp along with our Director & Master Trainer M.Chandrashekher Reddy, later in the blood donation camp Ms.Isha also donated blood and supported the cause.
Speaking to the Media Mr.Surender Reddy congratulated Helios for conducting such awareness program and taking up charity event as part with social responsibility and being the first of its kind to start such even in our city.
Charmme explained how her journey started in film and how from very 1st associated with Helios fitness center and Master Trainer Shekher who helped her achieved her fitness and mil stones in her carrier by keeping her fit and training her with a scientific approach keeping all her joint and posture related problems and still achieving her goals of staying in shape and looks. She also recommended every individual to take part in exercising and keeping them self-healthy rather than going to crash diets , pills, supplement's etc and worrying to get to thin or lose weight, she asked first make it a part of your routine , get healthy ,fit and strong and later all your goals will be achieved if you follow a professional Trainer and nutritionists etc as this way you can enjoy your workout eat healthy and clean without starving which she says is a right way of staying healthy and shape or else non active life could lead to problems, diseases etc which will cost lot more then what you spend on exercising , so she recommends there is a need of professionals like Mr.shekher and gyms like Helios where you can be guided with a personal and specific scientific approach .And she strongly supported this event and awareness program organized this week which for everyone to get help from Helios professionals and she felt it's a very good thing to come up with and thinking of other people and fitness professionals.
Actress Eesha (fame of movie anthakmundhu aatharvatha) also added glamor to the event and supported the cause and was talking with about her experiences with different fitness trainers and gyms she went before joining Helios and said the rest all were commercial, lacking the personal and professional. After she joined Helios she really got shape in just 2 months and applauded how professional and serious Helios is in addressing their clients, doing health checkups, regular fitness assessment's, designing personal programs which suites different individual's keeping their goals , fitness and health in mind etc she feels lucky to find a good gym and doesn't not feel as if she is working out and starving etc as the workouts and other plans of Helios makes her feel healthy, strong and energetic all day and also achieving her goal easily.
At the end Mr.Sekher thanked the media for coming and request to cover the event so that as many as people can watch and the sole purpose is achieved.