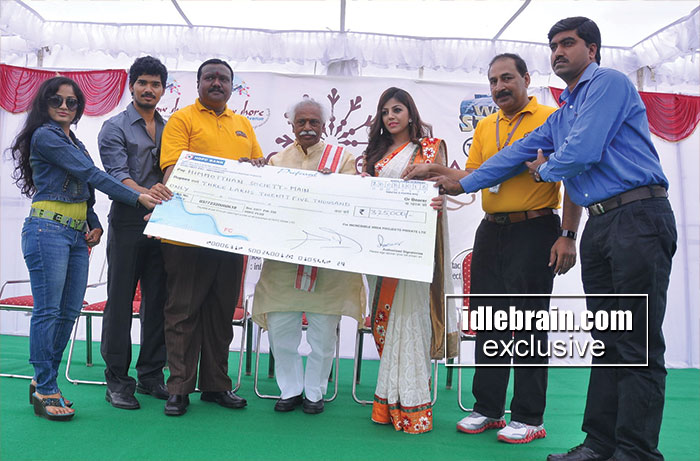 28 August 2013
Hyderabad
Incredible India Projects Private Limited - IIPPL as Corporate Social Responsibility (CSR) and 6th Anniversary of company celebrated the same in a noble manner at peoples plaza, Necklace Road, Hyderabad. Celebration expressd empathy to all the People who lost their lives on the tragic day of flood which swept Uttarakhand. Tollywood celebrites, prominent party leaders graced the occasion.

Actress Madhavi latha, Reet sahu – Mrs india international & CEO of Storm fashion company, Actor Sudhakar Komakula, Bandaru Dattatreya – Ex union minster, Handedover 3,25,000 fund to "Himmothan Society" a part of Sir.Ratan Tata Trust for Uttarakhand flood victims.

`To show our empathy towards the natural disaster that happened in Uttrakhand. We will be handing over a cheque of Rs 3,25,000/- towards the Uttrakhand Relief Fund said Mr Praveen Kumar Nedungadi - COO/Director IIPPL. A whole state has to be rebuild, we can't bring the lives back but we may bring a smile to a face & IIPPL will always come forward whenever any part of the country needs us, we believe in action more than words he added. V.T. Vijay Kumar – Director, Namrita Dhingra – Head Oprations IIPPL.