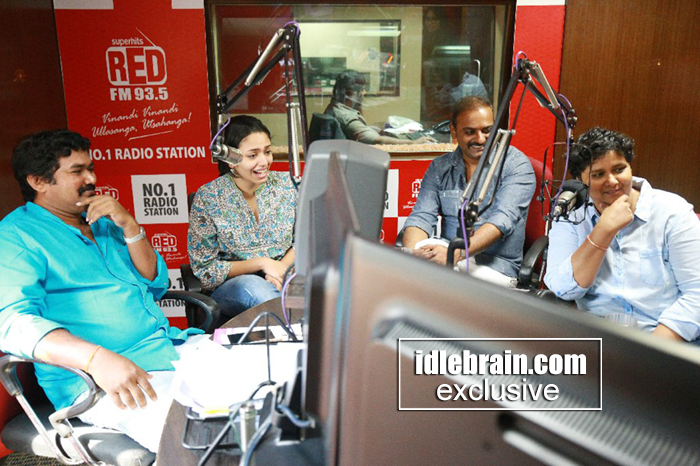 26 December 2015
Hyderabad
The Team of "KALYANA VAIBHOGAME" launched 2 songs at Red FM 93.5 on 26th December,2015.Heroine Malavika Nair , Director Nandini Reddy ,Music Director Kalyan Koduri & Lyric writer Laxmi Bhoopal discussed their experiences in the making of the film with R.J Vidya on the show.
And Released the songs respectively,
1.'PELLI PELLI' A Peppy song sung by Deepu,Dhanraj & Laxmibhoopal.
2.'MANASANTHA MEGHAMAI' A Duet song sung by SripadaChinmayi.

All songs written by Lakshmi Bhoopal.
Speaking to the Red Fm Listeners Director Nandini Reddy Said "KALYANA VAIBHOGAME" is a family entertainer with fantastic songs which can be engaged by the entire family & confusions about marriage ... this is from a parent angle & teenagers angle.
Heroine Malavika Nair said that " she wasn't planning to do another film after Yevade Subramaniam, but accepted this film as she was very impressed with the story & talked two words in telugu & sung two lines of love duet song with kalyan at fm.
Music Director Kalyan Koduri said "His favourite songis manasantha megahmai..And also he wants to buy the film for one area .
Lyricist & dialogue writer of the film Lakshmi Bhoopal said " it was very Challanging ,writing six completely dofferent soup for this film .I would like to appreciate kalyan Koduri garu & Nandini Reddy for their Support & encouragement.All three of us discuussed for every thing of the movie to get a good product.
The Audio Launch will be held in the first week of january 2016 and the film will be released on january 22nd 2016.