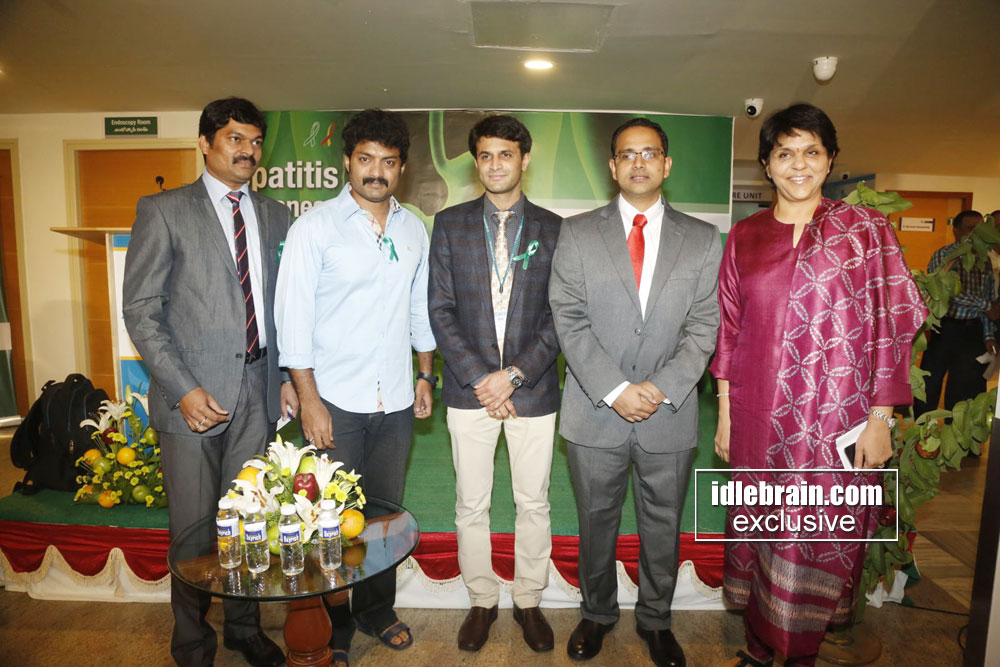 28 July 2015
Hyderabad
Cine hero Nandamuri Kalyan Ram & Ms Sangita Reddy, Jt. MD, Apollo Hospital launch the campaign
Hyderabad, July 28th, 2015: Apollo Hospitals initiated an Hepatitis Awareness Campaign on the occasion of 'World Hepatitis Day - 28th July, 2015' on Tuesday at Apollo Health City, Jubilee Hills. Cine hero Nandamuri Kalyan Ram and Apollo Hospitals, Jt. MD, Ms Sangita Reddy, formally launched the campaign, Dr Hari Prasad, CEO - Central Region, Apollo Hospitals and Sr. Consultant Medical Gastroenterologists, Dr K. S. Soma Sekhar Rao & Dr Naveen Polavarappu were present on the occasion.
Viral Hepatitis is cause by Hepatitis A through E. (A, B, C, D & E). A total of 315 outbreaks of viral hepatitis have been reported from 2010 – 2013 and 99 outbreaks only in 2013, says Dr K S Soma Sekhar Rao.
Hepatitis 'A' and Hepatitis 'E' are more important causes of Acute Viral Hepatitis and Acute Liver Failure in India. Acute liver failure often needs Liver Transplantation. Hepatitis 'A' infection is responsible for 10-30% of acute viral Hepatitis and 5-15% of acute liver failure cases in India. Hepatitis 'E' infection is responsible for 10-40% of acute viral Hepatitis and 15-45% of acute liver failure cases in India. Acute Hepatitis 'E' has high mortality rate of 15-25% in pregnant women in third trimester. There are no specific treatments available for Hepatitis 'A' and 'E', therefore identifying and controlling the infection source is critical. Safe drinking water and clean food helps in controlling and eradicating these viruses from our country.
On the other hand hepatitis 'B' and hepatitis 'C' are responsible for chronic viral hepatitis, which can complicate and cause cirrhosis of liver and liver cancer, which may require liver transplantation ultimately. Hepatitis B is prevalent in approximately 4 crore population in India and Hepatitis C in 1 crore population. Both these viruses are treatable and prevention of complications like cirrhosis and liver cancer is a possibility. Hepatitis B and Hepatitis C are transmitted by parental route, Blood transfusion, use of unsterilized surgical instruments, re-usage of needles, sexual contact, mother to baby transfusion etc. Hepatitis B is preventable by vaccination. Vaccination should be given in 3 doses and it confers protection in more than 99% of cases. Hepatitis B is also a treatable disease, various antiviral drugs are available to treat. Hepatitis C is a curable disease and various new drug regimens are available with 95% cure rates.
Increasing the awareness about these viruses their mode of transmission and awareness of the availability of treatment to the general public plays a vital role in control and eradication of these chronic viruses from our country, says Dr Naveen Polavarapu.