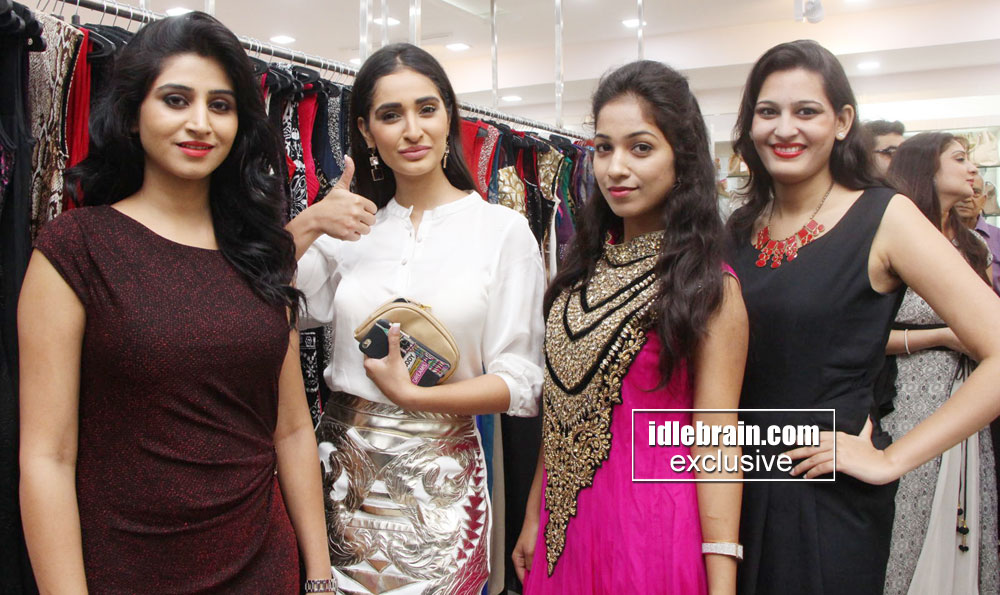 12 June 2015
Hyderabad
Adorne Fashion Studio –An ode to creative & exquisite fashion, is here unveiling its upholstered fashion outlet, showcasing range of creative & exquisite fashion line, Adorne Fashion Studio-a creative designer-fashion store; offers a wide variety of designer apparel & accessories under one roof. It comprises of the latest trend setting collection; its mission being excellence towards its customers, upholding the class in western and ethnic alike. The combination of colors, designs, and fabrics reflect a great mix of ethnic and contemporary trends.
ADORNE FASHION STUDIO heralds a new era of innovation, by striking the right chord between ethic and modern influences. Adorne Fashion Studio houses products of classic, trendy, contemporary & fusion appeal, it showcases an exquisite collection of Lehengas, Anarkali Suits, Gowns, Sarees, Tunics, Along with fusion wears, western ensembles and more.. Fabrics, Silks, Designs, Carvings, Customizing, Stitching & Tailoring are some of the exquisite offerings from Adorne.
Sarees: The designer sarees bring out the best of Indian artisanship and creativity. In these modern times, Adorne Fashion Studio keeps the modern woman tied to her roots of tradition.
Gowns: Adorne, brings out one of the best range gowns in Hyderabad. The collections are the amalgamation of traditional and modern looks. Adorne specializes in Bridal Gowns that add a touch of royalty to the bride. The Masterpiece collections are one to watch out for at Adorne.
Anarkali's & Salwar Suits: Adorne Fashion Studio has the finest collection of anarkali designer suits. Today, young designers have re-interpreted the Anarkali Suits to make it comfortable yet contemporary. The unique collection guarantees customer satisfaction. The collection at Adorne is Inspired from latest fashion weeks and yet it's distinctive and different.
Lahengas & Half Saree: The beautiful collection at Adorne Fashion Studio is a perfect choice for any wedding occasion. There is an exclusive collection of designer Lehengas & Half Sarees in an assortment of colors, embroideries, patterns and motifs created to be one of a kind. These are available in different shades like cream and off white, red, orange and pink, with gold shimmer work and ethnic embroidery to add to the beauty of the ensemble. The Lehengas are embellished with exquisite diamante, zari, zardosi, pearl and kundan work.
In addition to the beautiful designer sarees, lehengas, anarkali suits, kaftans, tunics, gowns, and dresses, Adorne Fashion Studio presents an exquisite range of accessories carefully chosen to suit today's women. There is a huge collection of designer handbags, variety of accessories to be chosen at the Adorne Studio.
Adorne Fashion Studio's ambience is inviting and comfortable, where a unique product range combined with extensively customized services shape a memorable retail experience. Adorne Fashion Studio promises its customers an extensive product range consisting of designer wear & accessories for women. To make the store atmosphere welcoming, attractive and friendly, Adorne Fashion Studio has majestically decorated and provided a visually interesting space with elaborate displays. Appropriate lighting, well painted walls, neatly stacked racks, attractive decor, and friendly staff are a few things the store has applied to make it a unique place to shop.
To satisfy a wide spectrum of customer's values, they have ensured that they stand committed in making your shopping experience the most enjoyable and cater to your post purchase requirements like stitching, customizing, tailoring, etc.. Adorne Fashion Studio's mission is to ensure variety and service to the customers.
Miss India Earth-Alankritha Sahai graced the occasion of the launch and showcased one of the designer ensembles from Adorne.
The M.D Adorne Fashion Studio Mr. Sandeep Vig along with Directors Mamatha Vig & Shabnam Shikka welcomed Miss Alankritha Sahai on the occasion of launch of Adorne Fashion Studio Second Outlet at Begumpet. The Directors Interacted with the Media and briefed them about the Brand Adorne Fashion Studio.