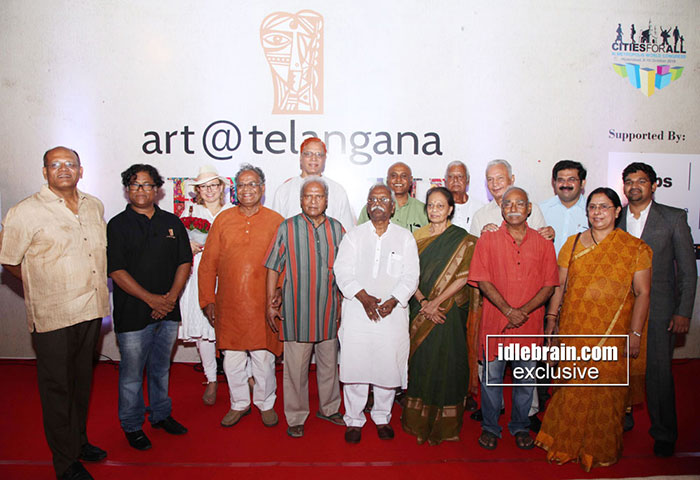 01 October 2014
Hyderabad
art @ telangana is an initiative by a group of independent individuals with the vision to bring the Artists and Artistic traditions from Telangana into the forefront. Under this initiative we are conducting an Art Camp, launching a coffee table book, launching a website and participating in multiple art fairs to show case the artists' works portraying the culture and identity of Telangana.
Our vision is to create a platform that endeavors to internationally showcase the works of eminent and budding artists alike from Telangana. 
Historically Telangana has had a rich tradition of Art. Ramappa Temple built by the Kakatiyas is a symphony in stone. Buddhist sculptures of Nagarjuna Konda are revered as art pieces worldwide. The Deccan miniature paintings reflect the affluence of richness this land holds. 
Painters like Deuskar, P. T Reddy, Sayyad Ahmed, Sayyad Bin Muhammad, KumarilaSwamy, K. Rajayya, Kondapalli SheshagiriRao, Badri Narayan, VasudevKapatral and sculptors like Osman Siddiqi's Art works are timeless. 
Fifty years ago expert painters like LakshmaGoud, Surya Prakash, Gouri Shankar, Vaikuntham, Devaraj, D.L.N Reddy, Daroz, Ravindar Reddy, ChintalaJagadish, Kavitha and NarendraRai were the forerunners in this league of pioneering painters. They travelled across the world with their works, showcasing Telangana culture and heritage and won numerous accolades for their efforts. 
As a part of our Trust's endeavor, we are conducting the Art Camp from 27th September to 6th October'14 for 90 eminent artists who would be attending the camp, staying at the camp and doing art works that would be donated to the Trust. The first batch of 50 artists will be from 27th to 30th Sept'14 and the second batch of 40 artists will be from 1st to 6th of October'14.
The senior artists LaxmaGoud, Vykuntam, Surya Prakash Goud, Anjanai Reddy, KavithaDeusar etc. have launched the Art Camp by lightening the lamp today in Indoor Auditorium of TaramatiBaradari at 11am.
n 6th October'14 the delegates of metropolis world congress will be visiting the art camp for the closing ceremony.
The Art works produced at this Art Camp will be kept on display during the 11th Metropolis World Congress in HICC for the delegates and visitors. Later these works will be presented through an Art fair at Taj Falaknuma during the mid of November'14. The total works and the profile of the artists will be presented in India Art Fair held at Delhi in January'15.