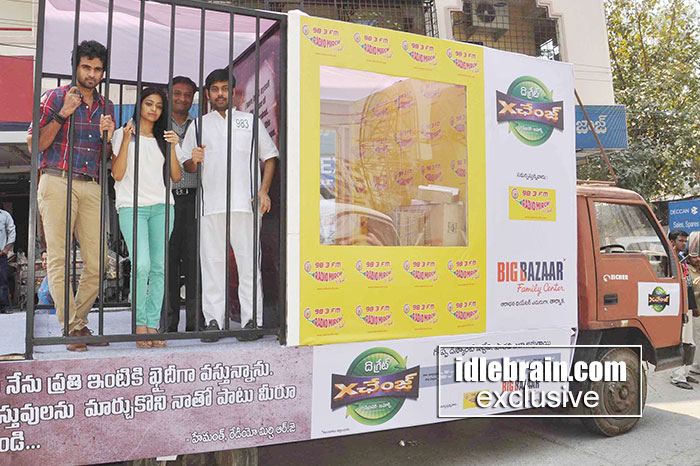 22 March 2014
Hyderabad
Radio Mirchi 98.3 FM, Hyderabad's hottest radio station & Big Bazaar, the flagship hypermarket retail chain of Future Group, in an endeavor to combat the woes of pollution and harmful living have launched 'Big Bazaar - Mirchi Clean Hyderabad' - a campaign encouraging the residents of Hyderabad to help make the city clean. The campaign has been started by 'Bhadram' Movie hero Ashok Shelvan, heroin Jani Nair, Tarnaka Big Bazaar head Sishir Tripathi and RJ Hemanth. This campaign is part one of Big Bazaar's most popular initiatives - the 'Great Exchange Offer' beginning from 22 February to 30 March 2014.
Through this campaign Radio Mirchi and Big Bazaar will create awareness about the hazards of a harmful eco system. As part of the campaign Radio Mirchi's hip RJ Hemant imprisons himself in a Mobile Jail on canter for the sake of a cleaner Hyderabad. Hemanth appeals to all Hyderabadis to support the cause by exchanging unused household items at Big Bazaar Taranaka during the Great Exchange Offer. To make our homes junk free and Hyderabad a Junk Free (clean) city. Big Bazaar will reward all those who support this cause by giving a exchange value/ points in return. These exchange points be redeemed for purchases at the store before 6th April, 2014.
This is a fantastic opportunity for the people of Tarnaka and neighborhood to make your homes junk free by exchanging unused items at Big Bazar, Tarnaka between March 22 to 24, and proclaim this part of the city a clean Hyderabad, says RJ Hemant.
Radio Mirchi & Big Bazaar are spreading the awareness about this campaign through various channels including contacting schools , colleges & Residential apartments.
The Mobile Van / Canter will be moving in the following areas during 22 March to 24 March.
Day -1 (22 March)
1. West Maredpally
2. Aswini Colony
3. Nehru Nagar
4. Mettuguda
5. Lalaguda
6. Malakjgiri

Day 2 (23 March)
7. Adikmet
8. Osmania University
9. Vidya Nagar
10. HMT Nagar
11. Nagendra Nagar
12. Vikrampuri Puri
13. Habasiguda
14. Prashanth Nagar
15. Uppal

Day 3 (24 March)
16. Indira Nagar
17. Moula ali
18. Mallapur
19. Nacharam