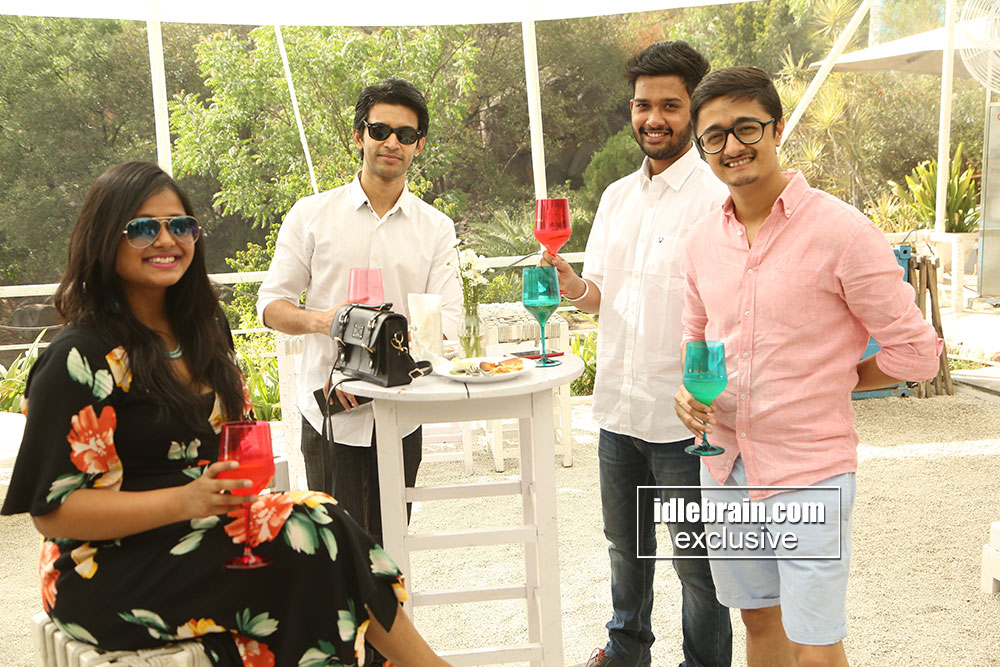 23 March 2016
Hyderabad
Moët Hennessy India launched its sparkling wines Chandon Brut and Chandon Brut Rosé in 2013. Two years, 16 cities and many awards and acclaims later, Chandon Brut and Chandon Brut Rosé have now been launched in the princely city of Hyderabad. Chandon is the perfect sparkling wine for Hyderabad, known for its delectable cuisine and regal heritage.
Chandon Brut is made from Chenin Blanc, Chardonnay and Pinot Noir grapes. It boasts of a bright, fresh fruit bouquet of citrus blossom with green apple and hints of tropical fruits and vanilla. Chandon Brut Rosé is made from Shiraz and Pinot Noir grapes and possesses rich aromas of ripe cherries with mouth filling flavours of red fruits and soft grapefruit undertones.
Moët Hennessy has invested in a state-of-the-art green field winery in Dindori, a sub-region of the Nashik district known for growing high-quality grapes. Chandon has been created by Moët Hennessy's team of international and local wine-makers and viticulturists, closely working with grape growers from the Nashik region. The wines have been crafted combining the finest local grapes to ensure the signature Chandon style.
Chandon's launch in Hyderabad reiterates Moët Hennessy's commitment to India, its faith in developing local excellence and the company's belief in the role it can play in transforming the nascent Indian wine market.
Chandon Brut sparkling wine will retail at INR 2,000/- and Chandon Brut Rosé will retail at Rs. 2,500/-. Both variants will be available at select wine retailers, hotels, restaurants and bars across the city.
About Moët Hennessy India:
Moët Hennessy India Private Limited (MHI) is a subsidiary of Moët Hennessy, part of LVMH - Moët Hennessy Louis Vuitton, the world's leading luxury group. MHI was incorporated in India on April 1, 2001. The company undertakes import, sales and marketing in India of MH luxury portfolio of wines and spirits. The company's international brands that are available in the country today are Ardbeg, Belvedere, Cloudy Bay, Chandon, Dom Pérignon, Glenmorangie, Hennessy, Krug, Moët &Chandon, Ruinart and Veuve Clicquot.
About Moët Hennessy Estates & Wines:
Moët Hennessy's portfolio of overseas vineyards is the fruit of an exciting series of acquisitions started some 50years ago. The house of Moët &Chandon first wanted to invest in and develop vineyards in Argentina where the terroirs were capable of producing fine sparkling wines following the traditional Champagne method. In the 1980s and 1990s, the prestigious house of Veuve Clicquot looked to California, Australia and New Zealand to acquire labels and vineyards that symbolized the New World.
More recently new vineyards have been planted or acquired in Spain, Argentina and on New Zealand's South Island. Today, Estates & Wines brings together and manages these estates collectively allowing each of them to thrive with its own personality and distinctive style and terroir.
About Chandon:
In the late 1950s, Moët &Chandon, the world's leading Champagne House since 1743, began exploring the potential for producing world class sparkling wines outside of the Champagne region, under the 'Chandon' name. The first Chandon Estate was created in 1959 in Argentina followed by California (1973), Brazil (1973) Australia (1986) and China (2013).
Following in the pioneering steps of the founders and continuing its search for new winemaking territories, Moët Hennessy determined that the Nashik region had the potential to produce world-class, premium quality sparkling wine.
Chandon is the first offering from Moët Hennessy to be made in India. Combining the centuries-old sparkling wine-making practices with the finest local grapes, Chandon is available in two variants:  Chandon Brut and Chandon Brut Rosé.
In 2015 the Chandon India winery was awarded an ISO 22000:2005 Certificate of Compliance for their Food Safety Management System – receiving of grapes from vineyards, storage, manufacturing and bottling of sparkling wine-Category E.