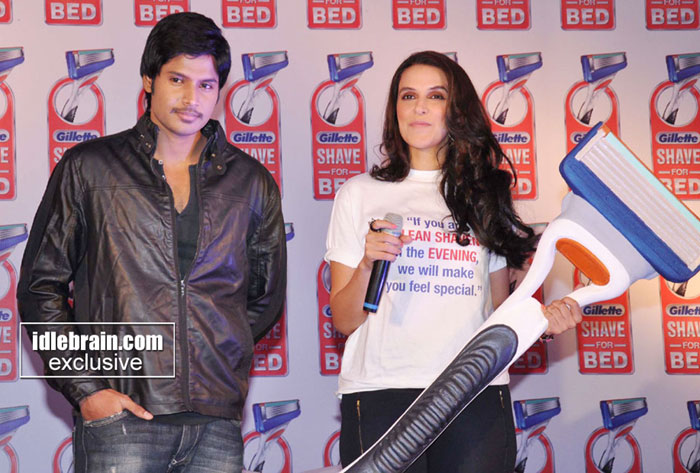 "Every time you Shave for Bed you come closer to your woman", says actor Neha Dhupia to Sundeep Kishan

Taking forward the 'Shave or Crave' movement, Neha Dhupia demands Sundeep Kishan to
sport a clean shaven look especially in the evening with the new Gillette Fusion Gamer

In Support of the 'WOES' movement i.e. Women Oppose Evening Stubble' initiated by Malaika Arora Khan & Neha Dhupia in early November, celebrities in different parts of the country have joined hands and are coming out in protest of men's evening stubble.

The WOES survey was conducted among 1500 people of which 1000 were women and 500 were men in 10 Indian cities; namely Delhi, Mumbai, Chennai, Kolkata, Hyderabad, Ahmadabad, Bangalore, Indore, Nagpur and Lucknow. The survey was undertaken to understand the impact of the evening stubble on the level of intimacy shared by a couple and revealed startling insights like 87% of women like their men clean shaven before a dinner night out. Women were asked to join the "Women Oppose Evening Stubble" movement by following the two 'Shave or Crave' mandates if their men did'nt shave
1. "If you don't shave off your evening stubble, we will make you crave us."
2. "If you are clean shaven in the evening, we will make you feel special."

Following the mandates, this movement was taken forward in Hyderabad, on the 20th of November 2012 by Neha Dhupia when she appeared onstage sitting on a bed with a large mock-up of a razor on one side and actor Sundeep Kishan on the other. Soon a debate followed which revealed that women are now putting their foot down because men do not make an effort to shave for them every evening.

Gillette came forward with a solution for men by introducing the new Gillette Fusion Gamer, Gillette's best shaving technology with a 5 blade suspension, which will allow men in India to experience the Most Comfortable Shave at an affordable price of Rs 299/-. So now men will no longer have an excuse to not shave both in the morning and evening.

Actor Neha Dhupia said, "In spite of several requests men fail to understand the importance of being well groomed in the evenings as well.Evenings are important to us because that is the time our men spend with us. If they can shave in the morning for their boss, why can't they do it for us? It clearly shows that they don't care enough. There is now no excuse for men not to shave in the evening since they now have the best in shaving technology with Fusion Gamer which is so gentle on skin that you can shave twice a day without any irritation. I urge women everywhere who feel the same way to make their men crave their company in the evening if they don't shave and only agree to come close if they take that extra effort to shave."

Neha Dhupia also substantiated this by stating the survey results from the Nielsen India study. The study claimed that:
· 82% of women believe that a man shaves before work because he cares more about what his boss thinks than what she needs~
· 88% of young women feel special when their boyfriend shaves for them in the evening~
· 88% women in Hyderabad feel that a man shaves before work because he cares more about what his boss thinks than what I need~
· 75% of women in Hyderabad want their Husband / Boyfriends face to be as smooth at night, as it is in the morning~
· 70% of women in Hyderabad feel more secure If their Husband / Boyfriend was always clean shaven~
On insistence Sundeep Kishan agreed to shave on stage with a Gillette Fusion Gamer razor and said; "If me being clean shaven in the evening makes my woman feel special, I will definitely start shaving off my evening stubble to show her I care .I also feel men should be clean shaven not just for someone but also because being well groomed makes one feel good about oneself".

Sundeep Kishan's efforts to shave were duly rewarded when Neha pulled Sundeep Kishan's trolley closer with every stroke of the razor and thanked him. "I am extremely delighted that Sundeep has decided to be clean shaven in the evenings too and urge men across the nation to do the same thing. This small gesture will make your women feel special and express your love and gratitude for all the effort she takes to be groomed all the time".