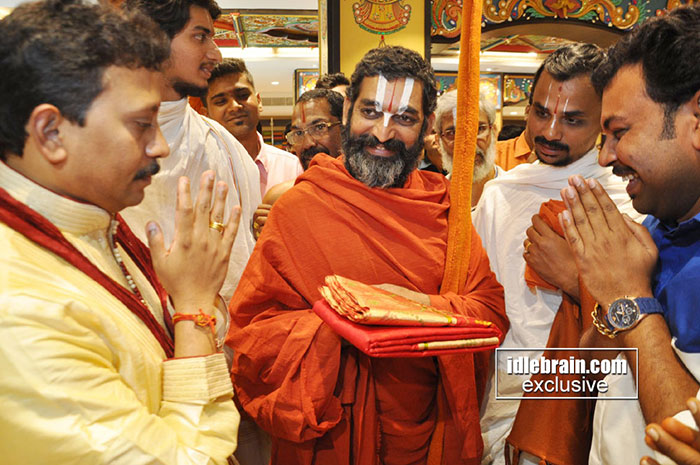 04 November 2014
Hyderabad
All the way from Kancheepuram... HERE IT COMES. On a mission to make women more beautiful, more traditional, the renowned silk brand KANCHEEPURAM VARAMAHALAKSHMI SILKS is now in Hyderabad. Witness the grand launch of Kukatpally store at Ground Floor, Kalamandir Shopping Mall on 2nd November' 14 & Jubilee Hills store at Road No. 56 on 3rd November' 14. Sri Sri Sri Tridandi Srimannarayana Ramanuja Chinna Jeeyar Swamiji will inaugurate the Jubilee Hills store at 11 am.
As the name suggests, Kancheepuram Varamahalakshmi Silks is a temple of saris for the woman, who wishes to add a never before aura to herself. Kancheepuram Varamahalakshmi Silks is the new abode for women, bringing to them exclusively created designer saris. Antiquity is the symbol of "Varamahalakshmi" with unique variety of saris at the lowest prices ever. It's a divine place and the products of which are so meticulously and pristine designed, that will meet the standards of today's woman. Said CEO Chalavadi Mohan And Director Annam Subhash today in press conference.
Can you imagine a saree store without a chair to sit. The brand follows the typical tradition of sales men and customers sitting on floor cushions to do the purchase will is very hard to believe. Every inch of the store is designed in such a way that you can feel our tradition, our culture across it.
Kancheepuram Varamahalakshmi Silks product lines are different from other players in the textile industry. So are its infrastructure facilities. It's an abode for Rare & Eternal Pure Kancheepuram Sarees, Aarani Sarees, Banaraas Sarees, Dharmavaram Sarees, Uppada Sarees, Handloom Sarees. Kancheepuram Varamahalakshmi Silks provide this exclusive collection at an unbeatable pricing as they own more than 1000 handloom weaving machines. Thus eliminating the middleman and serving the end consumers on a direct level.
The 1st store of Kancheepuram Varamahalakshmi Silks was launched on 18th October 2012 at Kancheepuram, Tamil Nadu. Subsequently the branches were put at Bengaluru, Vijayawada, Chennai Hyderabad (Saroornagar).