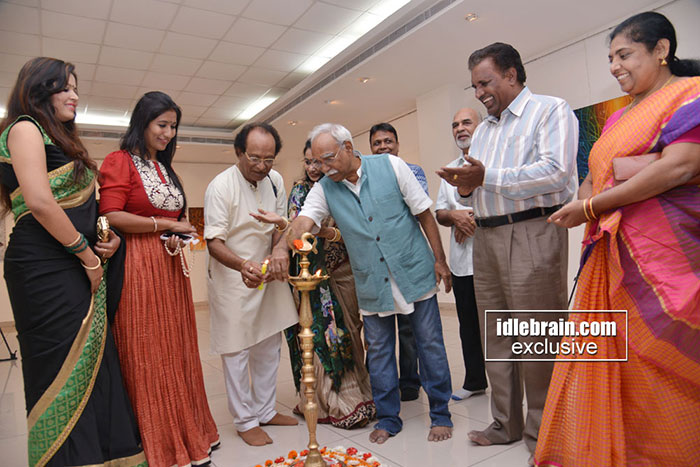 06 November 2014
Hyderabad
KrishnAnsh, A 4-day solo Painting Exhibition Kicked off at Chitramayee State Art Gallery, Road No 1, kavuri Hills, Madhapur. It will be on till 9th November, Timing 11:00 am to 8:00 pm. City Socialites Parvathi Reddy, Geeth Gupta, Tollywood Celebrity Make up Artist Geetika Chadha Inaugurated Painting Exhibition by Lighting traditional Lamp.
Mumbai Artist Rakhi Baid organized exhibition for the first time in Hyderabad. Krishna is the symbol of love ,The melodies of flute, bells, cows, conch shell and peacock feathers are all elements that symbolize his divine presence, Radha's unconditional love for Krishna, expressing the voice unsaid by exploring all the elements of his presence in her life, Through her paintings.
"Being an independent soul and a self-taught artist, I try to capture every moment and freeze time in my paintings. In today's day and age, we barely get time to express our love and pain to our beloved. Through my paintings I wish to capture every feeling of the human mind, said Rakhi baid.
I have used all the shades of blue, and even explored with black and white in mixed mediums on canvas. To the world, black is the color of shadows, but to me it is the color of pride. It's the color in which the internal flame of love shines. Like day turns to night, white turns to black but what remains is the power of love. Radha's affection for Krishna was as pure as the white and as constant as the black. It always remained unending and unchanged. Black is as beautiful as Krishna's own color 'shyaam' and white is as pure as Radha's devotion for him. Hence I am trying to show the constancy and continuity of their cycle of love" She added.
About KrishnAnsh ..
It was the last day of their romantic twilight strolls in Vrindavan. Krishna begged her to become his consort and come away with him to Mathura. Radha knew him as a cowherd not as a vanquisher of Kamsa. She could only imagine him grazing his cattle in the forest and enchanting the village folk with sweet melodies on His divine flute. It was the peacock feather which was his crown not the one he would wear as the King of Mathura. His weapon was not a glittering sword but a bamboo staff. Radha wanted these memories enshrined in her heart and with tears in her eyes, she refused his offer.
Krishna pronounced a blessing, 'Vrindavan will be the eternal memorial to their sacred bond and Radha will rule as the deity.' He departed from Vrindavan leaving behind his heart and his flute. Krishna never played the flute ever again.