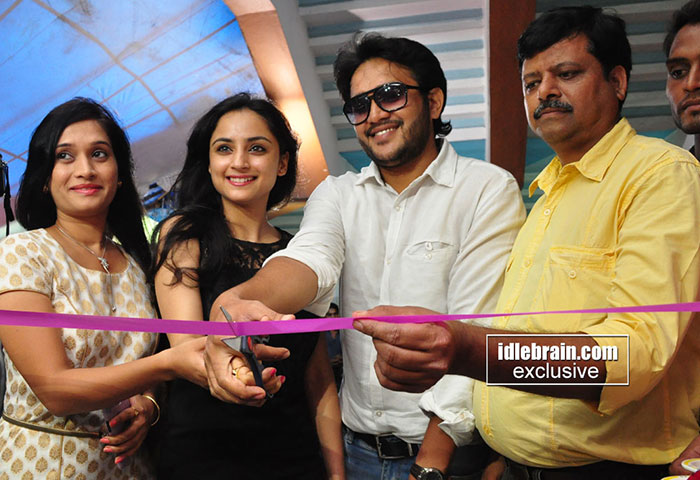 16 August 2014
Hyderabad
Gramin Hastkala Vikas Samiti Organised a -9 Days National Silk Expo-2014 from 16th August at Sri Satya Sai Nigamagamam , Sri Nagar colony, Hyderabad, Exposition will be on till 24th August 2014. Tollywood Actress Priyanka Pallavi (Oka Criminal Premakatha), Madirakshi (Oridevodoy Movie Fame) Inaugurated the Expo. Actor Sri Raj (Gallo Tellinatundhe Movie fame) Graced the Ocassion.
"Platforms such as this are required to reach out women looking for well-designed hand made cotton, silk wear & exclusive home textile ,"Which can see the blend of different style and concept of silk handloom creations coming together under one roof" Actress Madirakshi and Priyanka Pallavi , Said.
The Organizer of National Silk Expo, Jayesh Gsaid that,More than 100 designers and Artisans from 14 handloom weaving States, weavers are part of this year's exhibition, which includes gorgeous Uppadas, Banaras silks, Gadwals, Dharmavaram, Jamdanis, Jamawars and Sambalpuris. dress materials, silk & cotton sarees, suits material, fashion jewelry, home furnishing designer clothes from each region of the country.
"The main social objective of the handloom exhibition was to promote weavers and encourage and provide a market to the handloom industry . Through these exhibitions, we have been able to create good market for the weavers and their handloom woven ware, even in places where exhibitions are not feasible" he added.
Products from Various States ..
Artisans Rajasthan, Andhra Pradesh, Karnataka, Bihar, Odisha, Chhattisgarh, Madhya Pradesh, Gujarat , Jammu and Kashmir, West Bengal and many designers from metros working in collaboration with the weavers are displaying more than 1,50,000 variety of their work here.
Coimbatore silk, kanjeewaram silk from Tamilnadu. bangalore silk, crepe & georgette saree, raw silk material from Karnataka. kalamkari, pochampally, mangalgiri dress material, upada, gadwal, dharmawaram, pure silk zari saree from Andhra Pradesh. tassar, kantha, bhagalpur silk dress material, block handprint, khadi silk, & cotton dress material from Bihar. kosa silk saree, ghicha silk saree, mulbery raw silk, block printed silk saree from Chhattisgarh. bandhani, patola, kutch embroidery, gujarati mirror work & designer kurti from Gujarat. tabi silk saree, pashmina shawls, chinan silk saree from Jammu & Kashmir. chanderi, maheshwari cotton & silk saree suit from Madhya Pradesh. bomkai, sambhalpur from Orrisa. bandhej, bandhni silks saree, jaipur kurti, block prints, sanganeri prints, kota doria from Rajasthan. tanchoi, banarasi jamdani, jamavar, jamdani, brocket dress material, lakhnavi chikan from Uttar Pradesh. shanti niketan, kantha saree, designer saree, baluchari, neemzari saree, printed saree, dhakai jamdani from West Bengal are available at the exhibition.