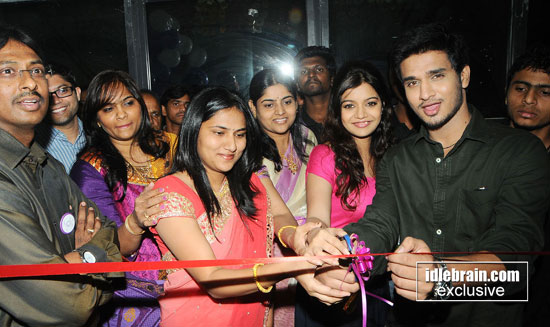 Hyderabad, December 2012: Naturals Family Salon & Spa , the biggest & fastest growing salon chain of india, has launched its Andhra Pradesh 25th Franchise in sikh road, beside dimond point hotel at Secunderabad. The Unisex Salon was Inaugurated by Actrecess Ms. Colours Swathi, & Actor Nikhil siddharth today. Mr Rajeev Bopaiah C.E.O of the company also present. `Beauty salons and spas play an important role in lending that glamorous touch to every one life style' said Actress Swathi .
"Naturals – renowned, offering professional services that will take care of complete personal styling for both women as well as men" said Rajeev, C.E.O of Naturals Family Salon & Spa. `including hair forms and hair coloring, grooming services like embellishing bridal makeup, hair styling, manicure, facial, and reflexology treatment services'' he added.
`Naturals currently runs 22 salons in Hyderabad, and planning to expand 40 salons in Andhra Pradesh market by the end of 2013 , company plans to recruit local talents to be placed in its salons as beauticians, stylists and administration professionals' he said on this occasion.
"We are committed to quality. Best services understanding the customers' unique beauty needs, reasonable pricing, hygiene and customer satisfaction are the traits that distinguish Naturals as the best in the beauty industry.," said Mr. Arvind, Regional Manager, Naturals - Andhra Pradesh.
`The new beauty destination is spresd across 3500 sq.ft, big salon has seprate facial rooms with steam shower facility, massage rooms, hair spa , bridal, vip room. To provide privacy to women, the unisex salon has exclusive women zone' Said Padmaja, Navneeta, Mamatha franchisee partner for Naturals salon Secunderabad Branch.