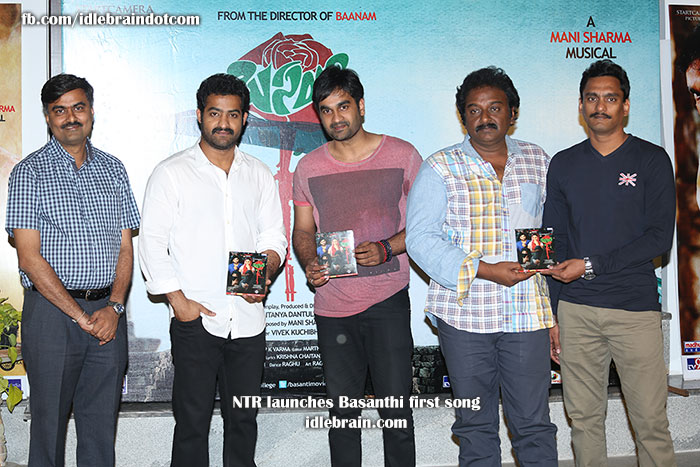 6 February 2014
Hyderabad
The First song teaser(Prathee kshnam) of "BASANTI", the first production for 'STARTCAMERA PICTURES', starring Raja Goutham (Brahmanandam's son) & Alisha Baig in lead characters has been unveiled by Young Tiger NTR and Star Director V V Vinayak. Manisharma composed music to the song and Mr Srimani written Lyrics for the same.
NTR said, he saw the Trailer of this movie on youtube and impressed by the trailer. During launch he said, he is happy for Mr Brahmanandam, as his son Mr Rajagoutham is looking very promosing in the Trailer and Song teaser. He said his all time favourite song is Nee Navvula Telladananni from his movie Aadi, composed by Manisharma. Further speaking, he wished all the best to the entire team and Goutham. He said he liked the Pratheekshnam song very much.
Director V V Vinayak, said that he liked the trailer, and praised the Logo design. He wished this film should become super duper hit for the sake of Mrs.Lakshmi (Mother of Hero Goutham). He sensed through the trailer that there is something innovative in the movie. He conveyed his best wishes to the entire team and praised the way Golkonda Fort presented in the movie.
Hero Raja Goutham thanked Young Tiger NTR and Star Director V V Vinayak for releasing the song teaser.
Director Chaitanya said he is very happy that Basanti First song teaser released by NTR. He recollected his first movie Banam songs were also released by NTR.
Co Producer of Basanti Vivek Kuchibhotla, Nallamalupu Bujji are among others attended the function.