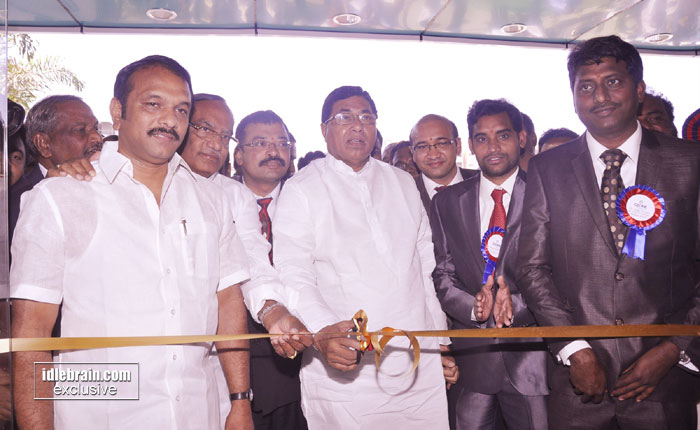 Ozone Institute of Medical Sciences, running by young generation entrepreneurs in healthcare sector opned OZONE Hospitals at Kothapet In Hyderabad. With over 45 Super Specialties and a 5th generation transfusion blood bank, Cath lab, 5 Stainless steel operation theater , a state-of-the-art 250 bed tertiary care facility. Mr. Kunduru Jana Reddy Minister of Panchayat Raj & RWS for Andhra Pradesh inaugurated the hospital today. Sri Sudheer Reddy, Sri Julakanti Ranga Reddy ( Members of Legislative Assembly ), Sri Guttha Sukender Reddy ( Member Of Parliament ) were also graced the occasion.

"At Ozone, we believe every person deserves efficient, affordable and equitable healthcare and we are fully geared to deliver just that. Recognizing the inevitability of keeping overheads under control, we follow a unique delivery model wherein the founding team of healthcare professionals is hands on with every aspect of the day-to-day management of the institution. Not only does this ensure cost-effectiveness and process efficiency, but patient focus too will remain unwavering" said Ozone hospitals Managing Director Dr. Jalapathy Reddy Mandala. "Ozone Hospitals was built on the founding belief that providing superior quality of patient friendly healthcare could be cost effective simultaneously" he added.

"Quality healthcare is the right of every citizen. Despite our country being the hub of medical tourism, for the wider masses, healthcare services remain prohibitively expensive. Our aim is is to make healthcare more affordable" Dr Jalapathy Reddy elaborated. "Even as we practice affordable healthcare, technology plays a starring role in Ozone. World-class equipment, advanced treatment methodologies, clinical pathways, evidence-based medicine and human-centered spatial design all coalesce seamlessly to serve up delight for not just patients, but their families too" Chief Executive Officer Dr. Prasad ragi said. Ozone Hospitals Medical Director Dr Ranga Reddy Sirigiri, Directors Dr Jayanth Reddy Karri, Dr. Indrasen Reddy Kakanala, Dr Krishna Reddy Pingali

About Ozone Hospitals: Ozone offers an array of over 45 super specialties and is additionally equipped with a 5th generation transfusion blood bank, a Cath Lab and seven Operation Theatres with Class 100 Modular Laminar Flow, featuring the very best modern science has to offer. Standing tall at a central location at LB Nagar, connected to five major highways, Ozone hospitals is spaciously spread out over 100,000 sq feet in area.