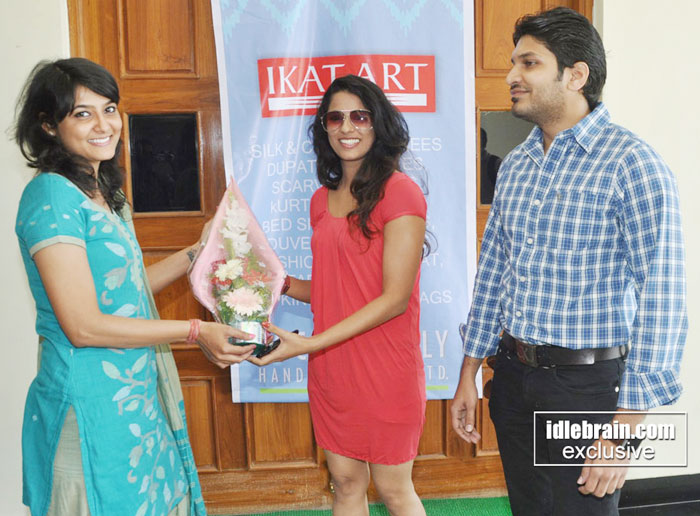 The beauty of IKAT lies in the unpredictability of texture of the fabric , using the latest techniques. 'ikat is a textile technique in which patterns are achived by tying and dying the yarn prior to weaving, this unique process gives ikat fabrics their distinct feathered identity..
Hyderabad, 2012 :Much to the delight of the fashion connoisseurs, 'Pochampally IKAT Mela 2012' a 7-day Handloom Products exhibition kicked - off at The National Small Industries Corporation (NSIC) Exhibition Center ,Radhika Theater Road, Kamalanagar , Near Ecil X Road , Kushaiguda. The Mela organised by pochampally Handloom park , will be on till 31st December 2012.

Exhibiting Exclusive Handloom products like , Hand made Bed & Home Linen, Dress Materials , Silk & Cotton Saris in exquisite designs & Contemporary colours by famous designers , Skillfully created by world famous Weavers of Pochampally. Ranging from home textile to apparel fabrics, stoles , scraves, and sarees in silk & Cotton , duppatas , table mats, covers, cotton shirts & Kurtis , Hand bags, and engineered blends.

NRI Movie fame Tollywood Actress Shravya Reddy and Upcoming Actor Charley Movie fame Kartik Garimella inaugurated the mela by lighting the lamp. "It's glad to see various apparel, particularly designer wear, silk and cotton sarees, furnishings to be showcased for the Fashion Connoisseurs" Shravya said on this occassion. "Platforms such as this are required to reach out women looking for handmade well-designed cotton, silk wear" Shravya added.

"Handlooms are a part of an age old Indian tradition- element of Indian culture and rich artistry. By promoting handlooms, we support the artisans and local community who have been passing on their skills for generations. Promoting creativity and originality, each design is a result of individual artisans creativity which is influenced by the local traditions and cultures" Chairman , Pochampally Handloom Park , Mr Devender Said.

"Platforms such as this are required to reach out women looking for well-designed hand made cotton, silk wear & exclusive home textile , Which can see the blend of different style and concept of handloom Products & Hand made creations coming together under one roof Created by world famous Weavers of Pochampally' said Mr Damoder , Director for Pochampally Handloom Park.