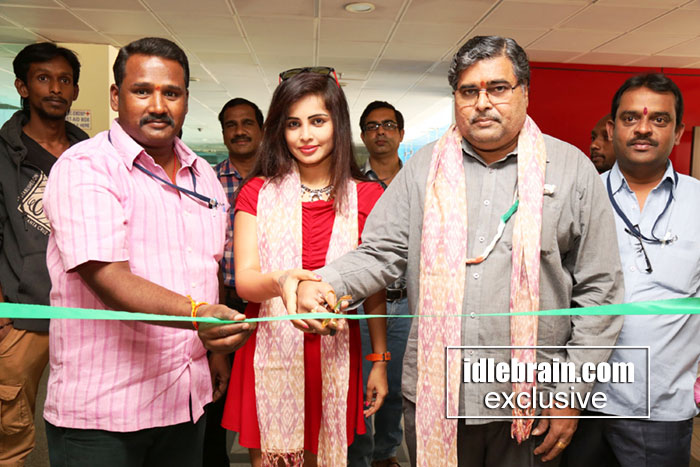 08 May 2015
Hyderabad
'Pochampally IKAT art Mela 2015' a 10-day Handloom Products exhibition begins at The National Small Industries Corporation (NSIC) Exhibition Center, ECIL cross road, Kushaiguda. The Mela organized by Pochampally Handloom Park, It will be on till 17th May 2015.

Haasikha Dutt, Tollywood Actress inaugurated the Mela by lighting the traditional lamp," It's glad to see various apparel, particularly designer Fabrics, silk and cotton sarees, to be showcased for the Fashion Connoisseurs" she said.

"Handlooms are part of an age old Indian tradition- element of Indian culture and rich artistry. By promoting handlooms, we support the artisans and local community who have been passing on their skills for generations. Promoting creativity and originality, each design is a result of individual artisan's creativity which is influenced by the local traditions and cultures" said Pochampally Handloom Park CEO Damoder, Director-Lava kumar and Ex Chairman Krishna.

Exclusive Handloom Products..

Exhibiting Exclusive Handloom products like Handmade Bed & Home Linen, Dress Materials, Silk & Cotton Saris in exquisite designs & Contemporary colors by famous designers, Skillfully created by world famous Weavers of Pochampally. Ranging from home textile to apparel fabrics, stoles, scraves and sarees in silk & Cotton, duppatas, table mats, covers, cotton shirts & Kurtis, Hand bags and engineered blends.

IKAT is a textile technique..

The beauty of IKAT lies in the unpredictability of texture of the fabric, using the latest techniques. 'Ikat is a textile technique in which patterns are achived by tying and dying the yarn prior to weaving, this unique process gives ikat fabrics their distinct feathered identity.