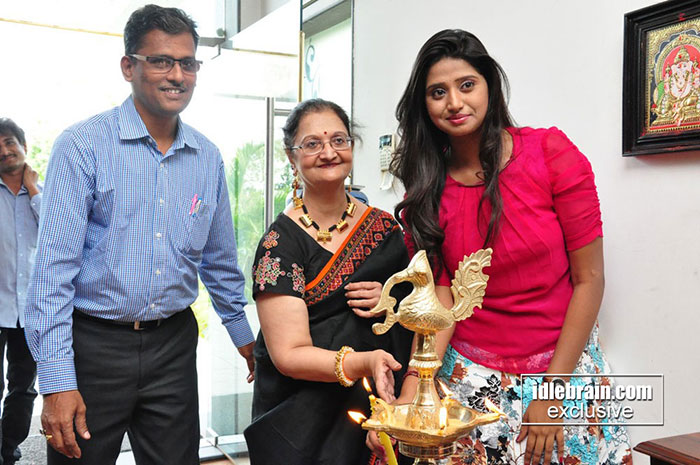 24 September 2014
Hyderabad
Shrujan-Threads of Life, a Non- profit organisation Located in Kutch, Gujarat organised Shrujan 'Kutchhi Hand Embroidery' Exhibition at Veeves Boutique , Road no 14 , Near Asha Hospital , Banjara Hills ,Hyderabad. The exhibition will be on till 27th , Sep 2014 .Open from 10 am to 9:00pm. Tollywood Actress, (Ice Cream2 Movie Fame) Shalini inaugurated the exhibition by lighting the lamp.
"Designers like Smt Chandaben Shroff, Harita kapoor, Swati Dalal, Shimoli Shah and Keyur put in their souls and minds together to bring about the best depiction of these embroideries for urban customers." said Trustee of Shrujan –Hiral Dayal. Featuring original hand embroidery products by 4000 women in 125 villages of Kutch, use their creativity and skills to create exquisite hand embroidery that is fashioned into high end apparels and home furnishings for urban and international markets"She added.
The Exhibition showcases 16 different types of embroideries, which have been social and cultural symbols of kutchhi communities and are passed from mothers to their daughters. Embroideries such as aari, ahir, chakan, gotanv, jat fakirani, jat garasiya, kambiro & Khuditebha, kharek, mukkko, neran, pakko, rabari, soof on exquisite sarees, kurtas, dupattas, stoles, mufflars, tops, quilts, shawls and life style products such as bags, mobile covers, wall hangings, Home furnishings are the main features of this exposition.
About Shrujan ….
Started in 1969, Shrujan used the wealth and wisdom of the ancient craft of hand embroidery to enable 30 crafts women from Dhaneti village of kutch to secure for themselves a sustainable yet home based means of livelihood.
Started by Smt Chanda Shroff, a Rolex award laureate, Shrujan has now become a successful model of providing dignified livelihoods for women artisans who work from their homes in villages and are connected to urban markets through the silken threads of life that shrujan uses