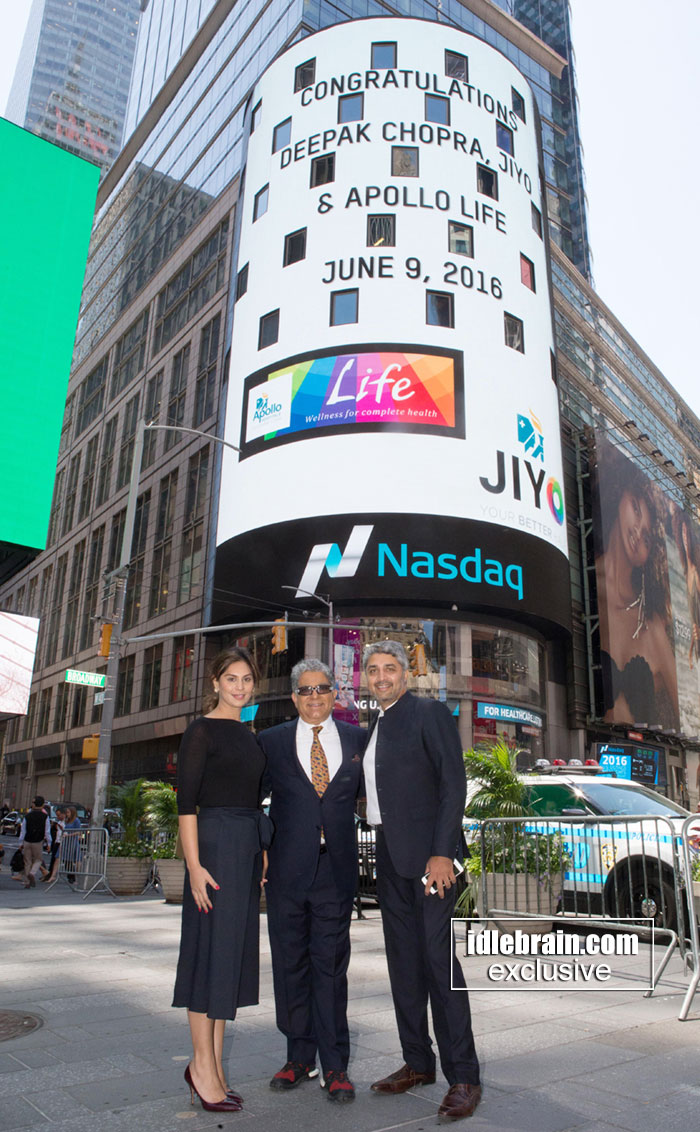 15 June 2016
Hyderabad
World renowned physician, New York Times best-selling author and wellness expert Dr Deepak Chopra, M.D., Ms Upasana Kamineni, Managing Director, Apollo Life and Poonacha Machaiah, entrepreneur, technology, and transmedia expert; launched a new wellbeing platform called 'Jiyo', in partnership with Apollo Life, a leader in the health and wellness segment in South Asia, at NASDAQ, New York, today.
Jiyo is intended to be a personal companion to enable personal transformation. Moving beyond many popular apps and devices that focus on just one aspect of wellbeing, Jiyo addresses health and wellness holistically, encouraging lifestyle modification and offering expert insights across categories from exercise and nutrition to sleep and stress, in addition to exclusive interactive meditation videos with Dr. Chopra.
"The goal of Jiyo is to impact a billion lives around the world by enabling them to experience a joyful energetic body, a loving compassionate heart, a restful alert mind and lightness of being," said Dr Deepak Chopra.
The Apollo Life partnership in India will enable Jiyo to bring wellbeing services to nearly 1.5 million users. "Our health is our true wealth and this is not a mere adage. Good health is a priceless gift; it demands our attention because it is all in our hands. The partnership with Jiyo is a much needed catalyst to address the huge healthcare challenge our society faces today with chronic disease and lifestyle disorders," said Dr Prathap C Reddy, Chairman, Apollo Hospitals Group.
"The Wellness of India will determine the progress of India and this is a step to ensure that goal. Through this partnership, we will be able to bring global experts, products & services faster and directly to Indian consumers via their smartphones. Apollo Jiyo is all about personalization of an individual's health wellness needs", said Upasana Kamineni, MD, Apollo Life
The groundbreaking platform utilizes cutting-edge intuitive technology to analyze users' behavior and makes recommendations based on their habits to nudge them on their path to wellbeing.
By focusing on five pillars of wellness including personal growth, exercise, nutrition, sleep, and relationships, Jiyo aims to take a 360-degree approach to wellbeing, offering curated video content and insights from leading global experts including Dr. Mark Hyman, Kimberly Snyder, Eddie Stern and Tara Stiles. Wellbeing communities are also a key feature of the platform given the importance of support groups that enable users to achieve their wellbeing goals, and users will be able to access such communities by subscription.
Going beyond traditional quantified-self apps and devices, which primarily provide data, Jiyo offers insights and curated content and services through its behavioral nudges. Jiyo has curated some of the leading wearable devices and apps that can be integrated based on user preference as well. "Jiyo aims to democratize wellbeing by leveraging mobile technology, devices/sensors, curated content/services and prescriptive analytics to provide the consumer with contextual services that will enable them to make positive lifestyle changes," said Poonacha Machaiah.
Jiyo has also partnered with MINDBODY, the leading provider of business management software to the wellness services industry and the creator of the award-winning MINDBODY consumer app. Through this partnership, Jiyo users will be able to access MINDBODY's extensive, worldwide network of over 277,000 practitioners in fitness, beauty, and wellness to find and book classes and appointments with local experts anywhere, anytime. From acupuncture to indoor cycling, color highlights to massages, martial arts to yoga, only MINDBODY boasts such a diverse, ever-increasing breadth of choices that encourages people to participate more frequently in wellness activities – making it easier to maintain a healthier lifestyle.
About JIYO
Jiyo is a comprehensive digital platform that allows users to engage, learn, and interact with a diverse range of information, articles, videos and reminders that help them to be their best selves. Jiyo's intuitive technology tracks users' behavior and then offers insights and suggestions based on their habits. This kind of 360-degree wellness covers exercise, meditation, relationships, finances, and finding purpose in the everyday. Besides useful content and encouraging reminders, Jiyo is also committed fostering community, connecting users to world leaders and experts on wellbeing and allowing them to create bonds with like-minded people who use the platform. Jiyo's aim is to make users more aware, identify their unique sets of strengths, and create a pathway to making every moment of life count.
About Dr Deepak Chopra
The author of more than 80 books translated in over 43 languages, including 22 New York Times bestsellers, Dr. Chopra co-founded The Chopra Center, the premier provider of experiences, education, teacher trainings and products that improve the health and wellbeing of body, mind and spirit. The Chopra Center provides an integrative approach to total wellbeing through self-awareness, and the practice of yoga, meditation and Ayurveda and collaboration with visionaries, scientists, pioneers, physicians and industry experts to educate and inspire seekers from around the globe to better their lives and the lives of those around them.
About Apollo Life
Apollo Life, an initiative of Apollo Hospitals Enterprise Limited, Asia's largest healthcare group, is a pioneering entity dedicated to health and wellness. Apollo Life's services encompass various dimensions of wellness, and when combined with its parent company's - Apollo Hospitals' - inherent strength in health, present a unique perspective in prevention and management of health. The core objective of Apollo Life is to address those mental, emotional, dietary, fitness-related, physical environmental issues that account for most chronic and lifestyle diseases we currently face.
"Jiyo thanks Nasdaq for supporting the Jiyo platform launch and the vision of transforming personal and societal wellbeing. Jiyo is committed to enabling the community to experience joyful energetic body, loving compassionate heart, reflective alert mind and lightness of being."