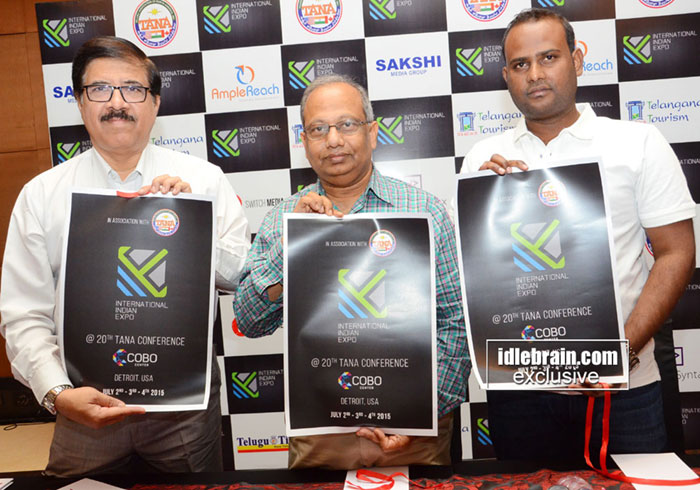 19 March 2015
Hyderabad
'International Indian Expo' at TANA Conference in Detroit
IIE is three day conference held at TANA Conference
Unique opportunity for reality players: Rajesh Sukamanchi
Hyderabad: 'International India Expo' (IIE), a unique international Expo is bringing thousands of NRI's and major reality players in India for a face-to-face for networking and branding. This Expo is organizing in the eve of most acclaimed TANA (Telugu Association of North America) Conference being held at COBO center, Detroit on July 2nd , 3rd & 4th. In this regard , TANA TEAM, Garapati Prasad, TANA India Coordinator, Subbarao Chennuri, Deputy India Coordinator unveiled the brochure and iieexpo.in
"We are looking at limited number of exhibitors for the expo and we already got a good response from the initial tapping we did. This would be a great opportunity for the emerging brands as it accentuates the brand recall in international arena. This would be a great place for any realty player to connect & directly engage the large pool of NRI investor" Rajesh Sukamanchi, Founder and CEO, IIE, Said. This is a biennial national conference with more than 10000 NRI's attend.
"We are distributing exhibitor directly for the registrants at TANA to create greater brand recall post show for the exhibitors. We would also provide booth staff in us to help the exhibitors" Rajesh Sukamanchi, said. " For the benefit of Exhibitors , we offer consulting & also offering comprehensive package which includes travel, Visa and Accommodation assistance, he added.
"IIE is a unique & colossal platform for any reality players in India to connect with potential NRI investors directly. It offers a unique opportunity for reality players to engage NRI's directly and expand their market to wider horizons" Garapati Prasad, TANA India Coordinator, told in the event.
"This is one spectacular location for all the realty players in India to exhibit their existing projects to thousands of NRI's, mainly from South India" Subbarao Chennuri, Deputy Coordinator said.