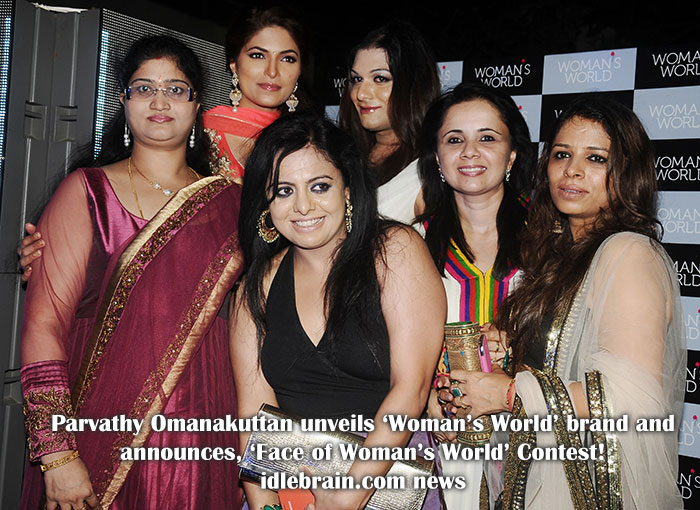 22 April 2013
Hyderabad
Chennai, April – May 2013: Woman's World, a leading name in fashion and apparel in Andhra Pradesh, now forays into the bustling metropolis of Chennai - where the old and new blend seamlessly. The signature store would be launched at Express Avenue and plans are on the anvil, to start stores across Tamil Nadu.
Hang on to the edge of your seats as the logo will be unveiled through a mesmerizing, never-seen-before underwater swimming sequence! Parvathy Omanakuttan, Brand Ambassador of Woman's World states, "Chennai is fast emerging a cosmopolitan city of repute and its stylish woman are seeking the best.Woman's World, with its exquisite offerings, is sure to create a buzz!"
As a pre-cursor to the store inauguration, Woman's World is happy to announce the launch of the first ever, 'Face of Woman's World' contest'! Woman's World invites registrations for the contest until May 1st, 2013. The contest is divided into two categories, Ms. Face of Woman's World & Mrs. Face of Woman's World.
The grand winner for both categories will be crowned by Ms. Parvathy Omanakuttan, ex Miss India World. The two winners will be awarded with a Rs. 1,00,000 shopping voucher each and a grand felicitation on the inauguration day of the store.
Interested participants can fill the application form online or download it at www.thewomansworld.in and e-mail it along with photos [email protected] Also, check out the Facebook page for the link to the form: http://www.facebook.com/mywomansworld or call 97917-75527 for more details. About Women's World:
"Woman's World will soon emerge as the place for shopping for women in Chennai. The experience of shopping at Woman's World is driven by the customers. Create your own saree is one such concept. It allows the customer to choose fabric, border design, motif, pattern… the customer can walk away in a saree designed by her, her way! We would strive to innovate and excel in bringing a shopping experience like no other,'' said V. lakshmi, Director, Woman's World.
The fabulous ensemble includes Ghagras, Salwars, Dress Materials, Western Wear, Kids Wear, Designer Sarees, Kanjivarams, Uppadas, Paithanis, Benaras, Pure Zari Kota and a range of beautifully elegant Sarees.