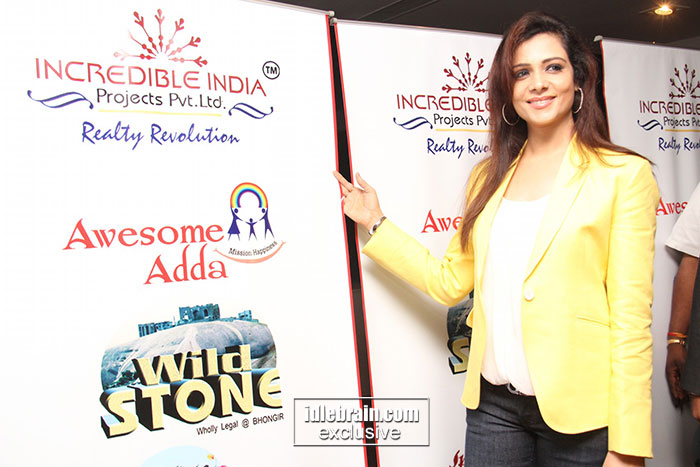 6 November 2013
Hyderabad
Hyderabad, November 2013: Incredible India Projects, which has successfully completed many ventures in the Realty sector in and around the state capital has now come up with a new project with 240 acres called 'Awesome Adda'. Chief operating officer of Incredible India Praveen Kumar Nedungadi launched the new project on Wednesday. Smt. Amita Piyush Motwani (Mrs India International-2013) inaugurated the project logo.
Speaking on this occasion, Praveen Kumar said the project, which is closer to the Hyderabad Outer Ring Road has DTCP permissions. There is layout for 215 acres. We have decided to allocate ten acres of land for direct constructions and five acres of land for resorts and other purpose. "Our aim is to provide house sites for the middle class section at an affordable cost and as per our plans we are offering one square yard per Rs 1,667 only. That too, the users can pay installment of Rs 5,500 every month till the 40 months time," he said.
We have made an investment of Rs 24 crore on this project. Additionally we have earmarked Rs 12 crore for developmental activities. Out of the total 240 acres of land 10 per cent of the land is used for parking purpose and 30 per cent land is used for roads, said Praveen Kumar. We are trying to complete the basic amenities such as drainage, electricity and other facilities on fast mode, said Praveen Kumar.

Incredible India to its credit has till now completed different projects. It has completed Wild Stone project near Bhuvanagiri in 400 acres. Similarly, it has taken up Sparrow Shore Avenue at Kottur.
"Every middle class family desires to acquire a own house and the present situation will not fulfill the desire that easily but Incredible India is providing it with ease. I thank the founders and the directors of the company for providing house sites at affordable cost' Speaking at the occasion, Smt. Amita Piyush Motwani said.
Speaking at the event, director VT Vijay Kumar said without any doubt customers these days prefer most credible company specially in the construction sector. We believe that we can fulfill their desire at an affordable cost with ease with our experience. Apart from development, Incredible India will always concentrate on innovation. Our target is to provide profits for our investors, customers.