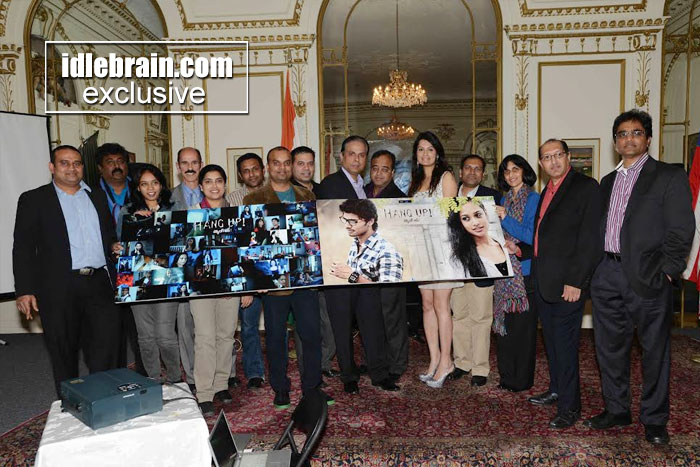 20 November 2013
Hyderabad
It was an eventful evening at the Indian Consulate, New York where the media gathered to witness the launch of Telugu Film, Hang Up. This was the first time that a Telugu film has been launched at the Indian Consulate, New York. The posters were unvieled by the Indian Counsel Mr. Rajaram who then addressed the media. He spoke about the Indian film makers in USA who are successfully venturing into the main stream film making in India. He expressed his happiness in supporting talented film makers and wished the Hang Up team for a successful release.
The directors of the film Tirthankar Das and Hyder Bilgrami then spoke to the media about their journey in making Hang Up. Many interesting episodes and challenges were spoken about by the cast and crew present. Das highlighted the importance of efficient production in the success of a film and introduced the Hang Up cast and crew. Hyder thanked the team for their hard work and support.
Leading the cast is Sudhakar Komakula and Natalie Rout. Sudhakar became very popular in Sekhar Kamula's "Life is Beautiful" where he played one of the main leads. He is considered as one of the most talented actors among the young breed in the Telugu film industry. Natalie is an aspiring actress from England. Currently she is studying Medicine in Cambridge University. She has also been trained at the London Academy of Media, Film and Television.
Finally the film trailer was launched and the audience clapped with great appreciation. Hang Up definitely looks like a real thrill ride and is based on an evening of strange and twisted events that try to trap the female protagonist in a web of fear and terror. A lot of effort has gone into the sound design, music and color grading of the film to make it a very memorable experience for the audience. Hang Up is scheduled to be released in Hyderabad during the last week of December, 2013. The entire team is very upbeat on it's prospects.
The successful event was put together by Nutan Kalamdani, US PRO of Hang Up and highly acclaimed photo journalist Jay Mandal.