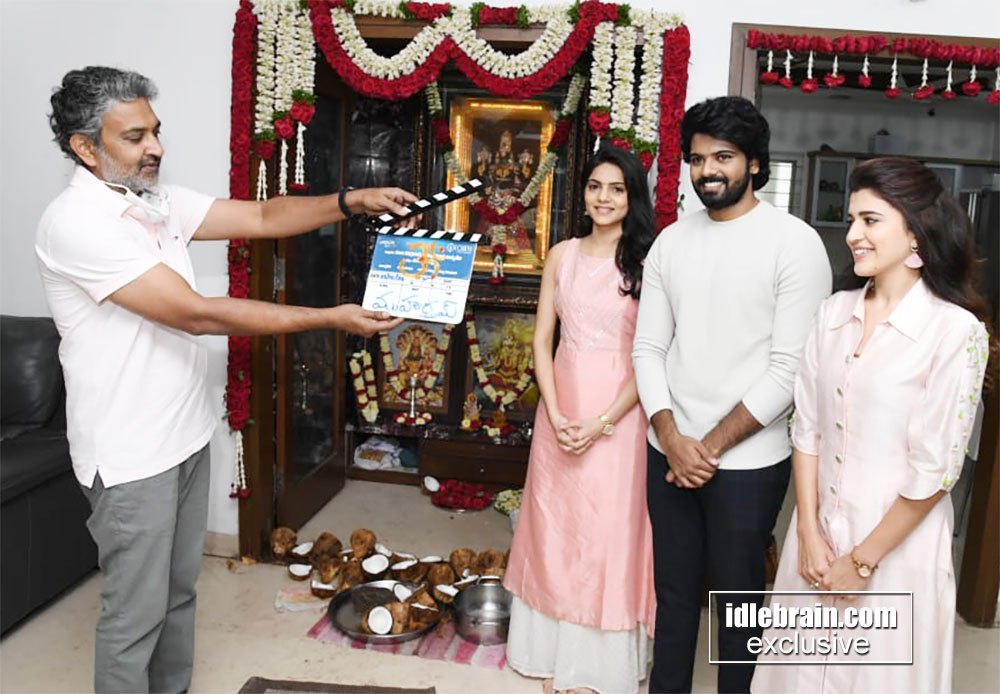 27 October 2020
Hyderabad
Music director MM Keeravani's son Sri Simha Koduri made impressive debut with Mathu Vadalara.
After waiting for nearly one year and listening to various scripts, the young hero has finally signed his second film.
First timer Manikanth Gelli will wield megaphone. It's a Sai Korrapati Production to be bankrolled jointly by Rajani Korrapati and Ravindra Benerjee Muppaneni under Vaaraahi Chalana Chitram and Loukya Entertainments.
The yet to be titled movie has been launched today with a formal pooja ceremony at the office.
Chitra Shukla and Misha Narang are the heroines paired along with Sri Simha Koduri.
For the muhurtham shot on Sri Simha, Chitra Shukla and Misha Narang, camera was switched on by Puranapanda Srinivas and the clapboard was sounded by SS Rajamouli. MM Keeravani handed over the script to the makers.
Billed to be a rom-com, Simha Koduri's elder brother Kaala Bhairava who's proving to be a promising composer will score tunes.
Suresh Ragutu will handle the cinematography while Satya Giduthuri is given editing responsibility.
The story is written by Nagendra Pilla.
Cast: Sri Simha Koduri, Chitra Shukla, Misha Narang
Technical Crew:
Direction: Manikanth Gelli
Producers: Rajani Korrapati & Ravindra Benerjee Muppaneni
Production: A Sai Korrapati Production
Banners: Vaaraahi Chalana Chitram and Loukya Entertainments
Music Director: Kaala Bhairava
DOP: Suresh Ragutu
Story: Nagendra Pilla
Editor: Satya Giduthuri