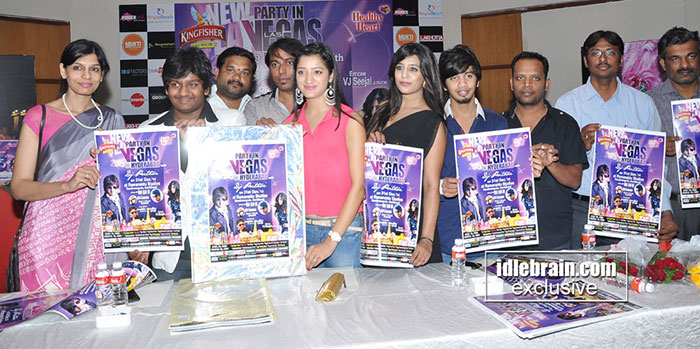 23 December 2014
Hyderabad
Party in lass Vegas @ Hyderabad ,First of its kind Event for this New Year Eve, by PIMA & Amusio Entertainments. After huge success of "Party in Goa @ Hyderabad" last year for 31st Dec, Coming up with another unique concept to bring down LAS VEGAS to Hyderabad, INDIA. According to the Theme, the complete venue will be transformed into Las Vegas with glittering lights, Fireworks, Lavish Setup, as it is seen in the VEGAS CITY at Ramanaidu Studios, Nanakramguda. Hyderabad.

Tollywood Actress Richa Panai Unveild Party in Las Vegas @ Hyderabad Poster, Press Conference held at Hotel Marriots, Hyderabad. Pinkk Ink Media Avenues –Organizer Ahmed Khan, said that DJ Prithvi, the No.1 DJ of Hyderabad and Internationally acclaimed, with his 3 back to back International Albums - MASTER BLAST, BEAT THE BOX and very recently TEENMAAR with DJ Jimmy Bell from USA, UK. Alongside, DJ Lil D, who will do the open set for this gala event for this New Year Eve Party.

Emcee by popular VJ from London, Seejal, also a Model from UK, who presented a Bollywood Weekly Show called 'INSIDE BOLLYWOOD' on a well known Asian Music Channel in the UK called BRIT ASIA TV on SKY television. On this Eve, we have a most popular Visual Artist from Mumbai Prakhar Rishodkar (sunburn fame), who is going to do the Live Visuals, which is going to give you an out of the World experience with Visual & Musical Treat to each and every the person.

Dj Prithivi , Lil D, Vj Seejal , Naturals Saloon and Spa Regional Manager Aravind Kumar, Lakhotia Institute Of Design CEO Ayesha were also present on occasion , New Year Event Conceived by Ample Reach and Mukti Productions.