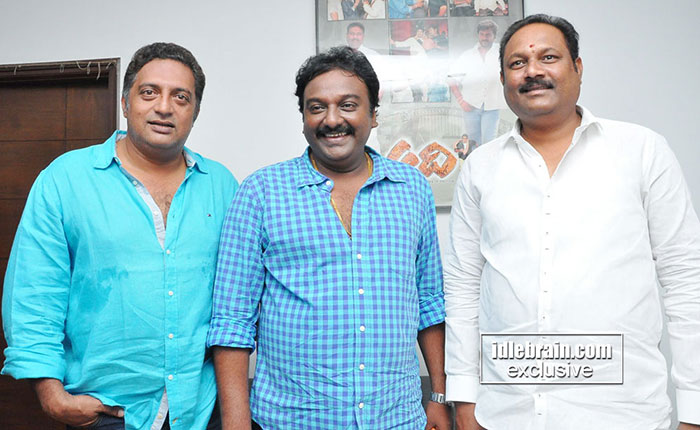 19 July 2014
Hyderabad
Alludu Seenu is a new genre script in commercial format - Prakash Raj
I don't show personal interest in promoting films unless I like them. That's why I asked Bellamkonda Suresh to arrange a press meet for me. I have been travelling with VV Vinayak from Dil movie. The story of this film is on-the-edge type. It's a family entertainer and humorous film. It has high-octane action stuff movie lovers expect from a good commercial Telugu cinema. Alludu Seenu is a new genre script in commercial format. I am amazed the way film and my character shaped up while doing dubbing for the movie. My combination scenes with Brahmanandam are going to be hilarious. The credit for success of the film should go only to VV Vinayak.
I like Sai Srinivas a lot. He is very talented, sensible and passionate. He is at ease with his work. He has acted like a seasoned actor. He has good grace in dancing and his comedy timing is perfect. I have done in the debut films of Mahesh Babu, Allu Arjun and Ram Charan. I am sure Sai Srinivas will also flourish. Sai Srinivas is also a thinking actor and it's his luck that he is doing his debut in the direction of VV Vinayak. I love that boy for placing his trust on us.
Sai Srinivas acted like a seasoned actor - VV Vinayak
Prakash Raj was the only actor considered for this role in Alludu Seenu. He was busy at that time. We had to wait for 3 months to get his dates. I was tensed about Sai Srinivas while shooting combination scenes with Prakash Raj in Badami. I was pleasantly surprised with Sai Srinivas work. Prakash Raj, Samantha and Brahmanandam give him a lot of comfort. We have screened few reels of cinema yesterday and am very happy with the response. They felt like watching Sai Srinivas perform as a seasoned actor.