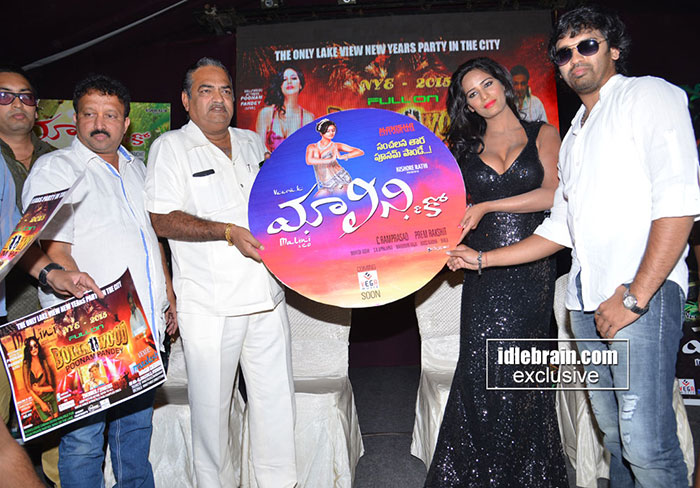 30 December 2014
Hyderabad
Sultry siren Poonam Pandey is all set to make her Telugu acting debut with the upcoming action thriller - Malini & Co. The movie, a mix of fantasy-romance genre with terrorism in the backdrop has Poonam donning the lead role.
Malini & Co., is directed by Writer & Director Veeru K and produced by Mahesh Rathi under Manisha Films banner, Kishore Rathi is the presenter. Samrat, Milan Rathi, Kavya Singh, Sambha, Ravi Kale are doing the other roles in the movie. Poonam Pandey, who made her onscreen debut with Nasha in Bollywood is now all geared up to scorch the screen in Tollywood with Malini & Co.
Speaking at the Press conference Director Veeru said, Malini & Co., is a heroine oriented film. We have just completed songs at locations in Bangkok and the film will be released by next month end. This film shows the power of women, what a woman is capable of doing is portrayed in this movie, he said.
Poonam Pandey said, working for this movie has been a brilliant experience. You will see the difference in performance in this film, experienced people behind this film have ensured better performance and made it into a different package. It's a performance oriented role, mine is a special character. You may see me in bikini, but I am doing much more here. I had many offers but this is really different, it has action, emotion and more. On her earlier penchant for courting controversy, she said, at one point of time I preferred controversy, after getting so much of work I don't need to do anything controversial now. What I wanted from controversy I got, she added. This is just the beginning, will do more Telugu movies. I am not here in the Telugu industry to compete with anyone, Poonam said. On her not being active on social media off late, Poonam said, I was busy with my shooting, therefore not active, but released some pictures today.
Poonam Pandey said, I have a special New Year Eve performance tomorrow at Marakesh, Durgam Cheruvu, and promised a real 'Jalwa' at the event. I look forward to entire Hyderabad joining me at the party at Marakesh, Durgam Cheruvu, she added.