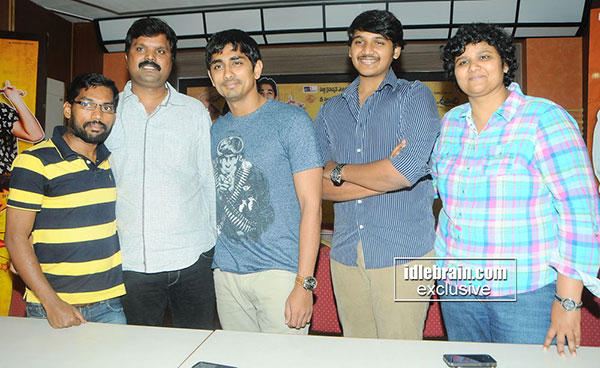 The unit of Jabardasth arranged a press meet today. Nandini Reddy, Siddharth, Veligonda Srinivas, Bellamkonda Ganesh Babu and Mahendra attended it.
Writer Veligonda Srinivas said, "We have started organizing premieres of Jabardasth and all the viewers liked the film. Siddharth will get mass image after Jabardasth. Nandini is such flexible director that she has changed the scenes to incorporate genuinely injured Sayaji Shinde."
Producer Bellamkonda Ganesh Babu said that Jabardasth is a non-stop comedy.
Director Nandini Reddy said, "I will be proud of this film despite the box office result and everybody is emotionally attached to the film. All of them trusted me. Jabardasth film will have positive vibrations. If you find any faults in the movie, it's because of me. If you like the film, then credit goes to all actors and technicians."
Nandini has used my talent and stardom for the maximum effect in Jabardasth - Siddharth
Siddharth said, "I would like to thank director Nandini. She has stuck with her point of view and executed in her way. This is my first mass comedy film. After watching the re-recorded version, I realized that Jabardasth is going to be a hit. There are highlight points in each and every reel. This is one of the best albums of Thaman. Samantha has acted in six consecutive Telugu hits so far and this is going to be her 7th hit. We played the characters of Byrraju and Sriya respectively. Srihari has done a special appearance that will be spaced out in two reels. I want to thank him for his sportiveness. Nitya Menon has done another cameo. Nandini has used my talent and stardom for the maximum effect in Jabardasth"