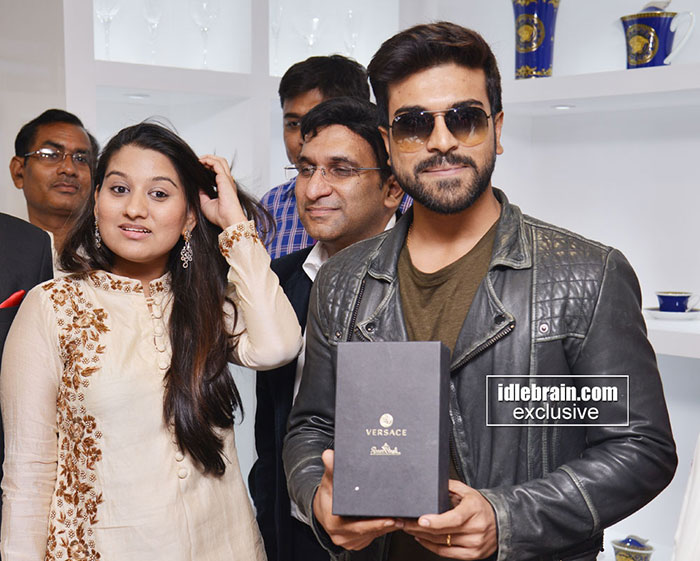 15 October 2014
Hyderabad
Mega Power Star Ram Charan Tej; Ms Sangita Reddy & Ms Pinky Reddy inaugurate KARISHMA & CO's flagship store & launch limited edition collections of renowned brands 'EKAANI' & 'ROSENTHAL'!
Mega Power Star Ram Charan Tej; Ms Sangita Reddy, Dy. Managing Director, Apollo Hospitals Group and Ms Pinky Reddy, inaugurated the flagship store of KARISHMA & CO. - a unit of Lalchand Hastimal Jewellers -, and launched the 'Preview' of Luxury brand 'EKAANI' World Wide Limited Edition Gold collection, Premium Silver Plated gifts and also of world renowned Rosenthal Dinnerware, Glassware and Gifts collection along with the unique Rosenthal meets Versace range, on Wednesday at KARISHMA & CO., Road No.7, Banjara Hills. Ms Karishma Jain was present on the occasion.
EKAANI is a luxury brand introduced by BAP creations Pvt Ltd. Designed by some of the top sculptors of the country and taking inspiration from traditional highly appreciated and best selling paintings, their masterpieces have been brought to life in silverware and porcelain and have been embellished with Swarovski crystals, fascinating colors and have been handcrafted with precision by renowned international brands like Sabadin Vittorio, Astra Argenti, Recuardo, and Leader Argenti to name a few.
The collection includes gifts, tableware, precious animal figurines, beautiful products designed around almost lifelike lady and other human figures. Ekaani's huge assortment of gifts comprises of Silverware range, Porcelain Figurines, Artifacts and range of Indian deities handcrafted in 92.5% sterling Silver & porcelain studded with original Swarovski and 24 Carat Go
The original Worldwide Limited Edition porcelain and 92.5 Sterling statues carefully hand crafted by world's best sculptures from EKAANI are being presented . Also handpicked beautiful art pieces from Italy are on display for connoisseurs of art. The store will have top international brands like Leader Argenti, SabadinVittori, Astra Argenti etc
Having expanded our distribution network to almost 30 cities across India, large brands saw a great opportunity to partner with us, said Saurabh Garg, Director & CEO, EKAANI. Today, we are proud to present the Rosenthal range of Dinnerware, Glassware and Gifts including the renowned Rosenthal meets Versace Collection.
The idea behind opening a store in Hyderabad with Karishma & co, a unit of Lalchand Hastimal Jewellers started by Mr. Mohanlal Jain, Pranay Jain and Karishma Jain directors of M/s. Karishma & Co., is to complement the synergies between the two and give world class products and services to consumers of Hyderabad, it made a lot of sense to partner with them, says Saurabh Garg.
With Karishma & Co's enormous understanding of the Hyderabad market, we are confident of replicating world class retail experience for Hyderabadis now', We also see a huge potential in the city, opines Saurabh.
EKAANI's long legacy with art and world class products, qualifies it to be the appropriate partner for this venture, adds Karishma Jain, Director, Karishma & Co.
The store will have products ranging from Silver Plated Gift articles from Italy, Spain, Germany and Sterling Silver and Porcelain Figurines, Glass items and Crockery from renowned brands from Europe. The store will have top international brands like Rosenthal, Rosenthal meets Versace and many more.
Strategically located in Banjara Hills, the store is expected to change the way people have been doing gifting in the past. The range will cater to all budget points and would be an ideal gift for Weddings, Anniversaries, House Warming, Corporate gifting, Diwali gifting, Birthdays, Personal gifting and gifting for all occasions.