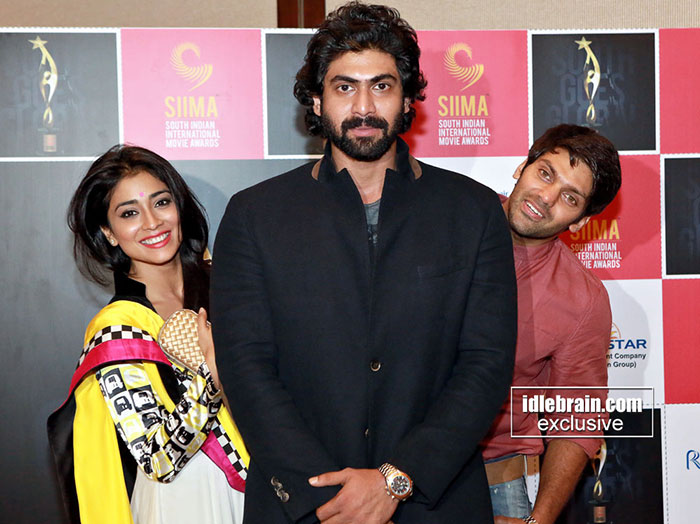 08 August 2013
Hyderabad
The much anticipated SIIMA celebration was heralded at a press conference in Dubai today by the sensational Shriya Saran, along with Rana Daggubati and Arya to announce details of the second South Indian International Movie Awards.
To be held from 12 - 13 September, the award function will take place at the Sharjah Expo Centre. Short listing the best films of all South Indian languages –Malayalam, Tamil, Telugu and Kannada - SIIMA is gearing up for two days of action packed celebrations.
SIIMA has been instituted with the aim of creating a global platform for the South Indian film industry, and with over 500 Movies released in a year, the South Indian Film Industry is one of the largest in the world.
Vishnuvardhan Induri, Founder and M.D of SIIMA said: "SIIMA is a platform for South Indian Film industries to showcase their cinema to the world, SIIMA will travel to a different country every year and it will be a great platform for south Indian films to market and publicize their movies."
Arya, Indian Tamil Actor and co-host at SIIMA, said: "I am very excited to be a part of a function where South Indian cinema is presented on a global platform."
The awards ceremony will be spread over two days. Day one will comprise the 'Generation Next Awards Night', and will be hosted by former Miss India World and actress Parvathy Omanakuttan, and co-hosted by stand-up comedian Ash Chandler. The 'Popular Awards' will be held on day two, and will be co-hosted by Arya, Shriya Saran, Rana Daggubati and Sonu Sood.
Shriya Saran, Indian film actress and the co-host at SIIMA said, "I am very excited to be a part of SIIMA. I had started my career with South Indian films so this industry is very close to my heart. I am really thrilled that I am co-hosting this prestigious award function and will be sharing the platform with three handsome co-anchors."
The prestigious panel of experts at SIIMA have chosen the nominees of the awards, and the winners will be chosen by an online voting system.
Rana Daggubati, Indian Actor and co-host at SIIMA said: "I am really looking forward to being with a room full of attractive, admired and extremely successful people from the South Indian film industry that are being honored for their artistic contribution. As the host, it will be a pleasure to ensure that amongst all the cheer, the stars have a good time, are thoroughly entertained, and cherish their moment of praise."
The awards night will be packed with breath-taking acts and performances by some of the biggest stars in South Indian cinema.