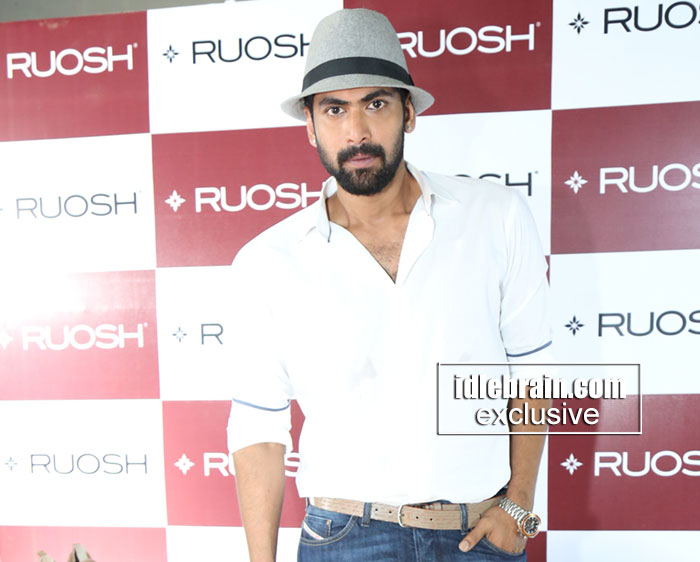 30 June 2015
Hyderabad
Popular actor Rana Daggubati shared with us his secret of how he keeps foot-wear choices fuss-free, when he unveiled the RUOSH, Smart Casual Collection. Rana, who plays a leading role in Baahubali, the most awaited movie in 2015 is always known for his Fuss – Free Smart Casual dressing style.
Nobody knows more about the pressure of constantly looking good more than actors. Loved by the public, constantly in the spot-light and always on the move, it becomes essential for them to all put their best foot forward always. And while public adoration is a great high, spending hours wondering what to wear is a big turn-off, especially when it comes to choosing the right shoes.
Actor Rana Daggubati said "Men like things that are low-fuss. We like simple and smart stuff that reflects our personal style both during the day and after work too. Changing shoes in the morning and then again for evening is just too cumbersome. RUOSH's Smart Casual Collection solved that problem for me – Their Smart Casual collection perfect for my engagements during the day and I can wear them at formal and informal gatherings after work too. It's really fuss-free."
The RUOSH Smart Casual Collection includes comfortable driving shoes with detailing elements, shoes with unique textures and finishes, rugged boots, classy boat shoes and elegant sandals. The highlights of the collection are lightweight soles, hand-finished brogue wing tip boots, colourful designs that epitomize modern day comfort with individual styling.
With increased number of corporates embracing the trend of encouraging their employees to dress in Smart Casuals, RUOSH's new Smart Casual Range can be worn every-day to work and after office hours too!
The collection is priced from Rs. 2990/- onwards.
RUOSH is a men's premium lifestyle brand retailing footwear, small leather goods and shoe accessories. Today, RUOSH has expanded its footprint across multiple channels of business with 22 exclusive brand stores in six cities and is also available with partners like Lifestyle, Central, Reliance Footprints, Centro, Koblerr, Regal & P.N. Rao. RUOSH online partners include Myntra, Jabong, Flipkart & Amazon.