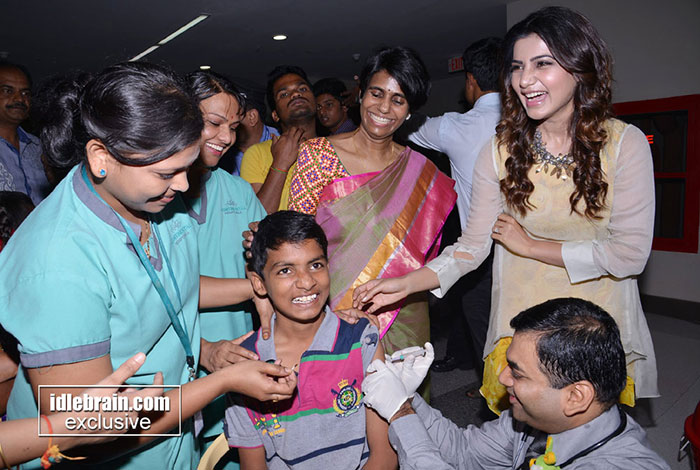 08 October 2014
Hyderabad
Continental Hospitals in association with Actress Samantha's NGO Pratyusha Support is organizing a 'Hepatitis B Vaccination Camp' on 8th October at the Hospitals premises. More than 25 orphans will be given the first dose of the Hepatitis B vaccinations by Dr Anjul Dayal, and Dr Srikanth Kona both Senior Consultant Pediatricians with Continental Children's Centre, Continental Hospitals.
Continental Hospitals' Dr Anjul Dayal will also be educating the gathering about the ill effects and the high risk groups for Hepatitis B. Hepatitis B (HB) is a serious disease caused by a virus that attacks the liver. The virus, which is called hepatitis B virus (HBV), can cause lifelong infection, cirrhosis (scarring) of the liver, liver cancer, liver failure etc. Hepatitis B is spreading because many chronic carriers of the virus are unaware they are infected and unknowingly transmitting it to those who are in close contact with them.
Fortunately, HB is a disease that is entirely preventable through vaccination. Hepatitis B vaccine, which is one of the safest and effective vaccines, is available for all age groups to prevent HBV infection.
Samantha Ruth Prabhu, Renowned Actress and the Founder of NGO 'Pratyusha Support' will also be present as a guest of honour for Hepatitis B Vaccination Camp at Continental Hospitals, on 8th October 2014. Pratyusha Support provides medical care and support to the orphan children suffering from life-threatening diseases. By joining hands with the women and children, Pratyusha Support has so far helped several families overcome severe situations by providing medical support. Vaccination is the best possible way to fight against the deadly hepatitis B virus. It takes only three shots to protect children against the deadly hepatitis B for a lifetime. The children of the Pratyusha will be registered for the future vaccination programs at Continental Hospitals. Continental Hospitals in this drive against Hepatitis B shall also be giving out the next 2 doses to these kids without any cost.
Dr Guru N Reddy, Chairman and Managing Director of Continental Hospitals <www.continentalhospitals.com>, will also be the guest of honour at the event.