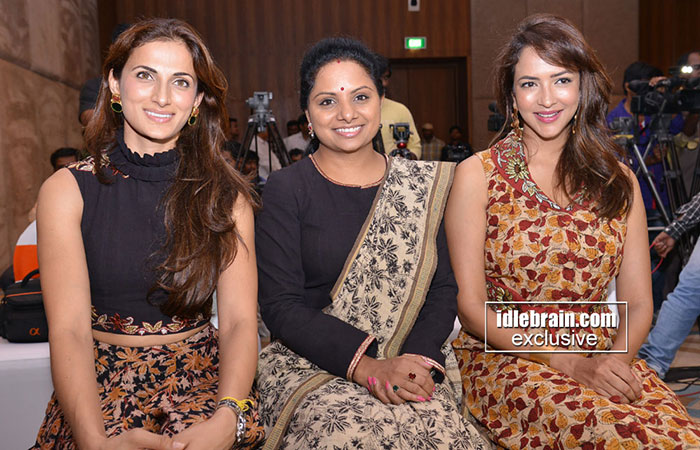 25 October 2014
Hyderabad
Imagine a show on the 1st deck of Eiffel Tower with the panoramic and picturesque view of the romantic Paris as a backdrop! Gives you Goosebumps, doesn't it?! Former Mrs. India and designer Shilpa Reddy is primed up for such a one-of-a-kind show in Paris on 31 st October 2014. A creme de la creme invitee list including ambassadors and members of government, to business and fashion leaders along with national and international press will be spellbound by this intriguing and dynamic presentation. Designer Shilpa Reddy is the only Indaian designer to be associated with such an extraordinary iconic event.
Shilpa Reddy Studio will be showcasing her Autumn/Winter Collection 2014 at this historic J-Autumn Fashion show by Jessica Minh Anh. Visually pushing the envelope, Jessica Minh Anh designed a two-tired outdoor catwalk, which spans over 150 meters across the first floor of the symbolic tower. Her master plan also includes a special VIP seating area heated up, and a breakfast area filled with Italy's finest Pozzetto's bakeries and beverages. This comes as a continuation of 6 history making fabulous catwalk shows at famous architectural wonders including London's Tower Bridge, Grand Canyon Skywalk, and more.
Ms. Shilpa would be seen merging the East and West on a global platform as her designs would present a bold statement with clean structures, premium fabrics, and implacable finishes. Given the international visibility and the magnitude of the platform, Shilpa Reddy chose the MALKHA fabric as the base for her designs. She endorses Malkha as a fashion, fabric for sustainable fashion as it combines thousands of years of Indian experience of making cotton with modern engineering skills. Malkha is made exclusively from Telangana and Andhra region (in India) and is engineered using plant-based dyes to produce beautiful fabrics with no environmental pollution. This in itself is a giant leap towards responsible and sustainable fashion. Shilpa Reddy Studio, for the first time, has ventured into designing gorgeous foot wear with Malkha combining age old traditional and beautiful embroideries in collaboration with brand SEPTEMBER from Hyderabad.
An excited Shilpa quotes, "I am elated to have this opportunity, and can't deny that am a bit nervous as people will look up to me as a proud Indian and not just designer Shilpa Reddy. It is a huge responsibility that i feel i am shouldering and i am confident, with all the support back home, this will be a prestigious moment for the whole fashion fraternity."
This much anticipated show will see designer and fashion houses from 10 countries come together to be part of this phenomenon.