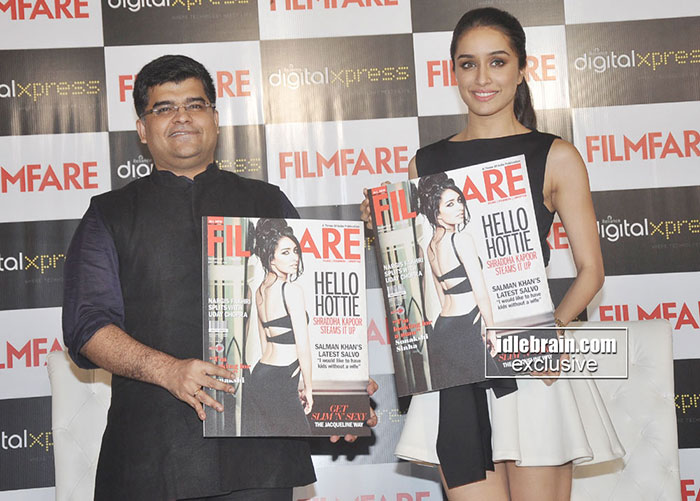 28 August 2014
Hyderabad
Filmfare's hot new cover splash
There's nothing hotter than Shraddha Kapoor right now and the heat has found its way to Filmfare's latest cover. The temperature was soaring when Shraddha unveiled the hot new cover at a launch held at the Reliance Digital Store, Prabhadevi.
Filmfare is the quintessential film buff's one stop for everything lifestyle in B-town. The latest issue features exclusive content on where your favourite stars are travelling, dining and shopping. Not just that, the magazine also has the low down on how to be as glitzy, glamorous and good looking as your favourite stars. It also features the latest scoops from showbiz. The latest issue has Shraddha Kapoor sharing the most intimate details of her life. All that she loves and all that has changed in the star's life of late. And if that isn't enough for you, her red hot photo shoot in the magazine will send the mercury rising even further.
Partnering this exclusive launch was India's leading consumer electronics name Reliance Digital. Its mega stores house over 150 international and national brands and over 4000 products. It's here that you can experience the best potential of each product in an ambience that simulates your life style. Reliance Digital helps you make intelligent buying decisions, and offers complete product life cycle support – ResQ – their proprietary advisory and post-sales support service. With Reliance Digital you get the absolute best – Sony, LG in Home Entertainment, and Nokia, Samsung in mobile phones, to Panasonic, and Toshiba in Home Appliances.