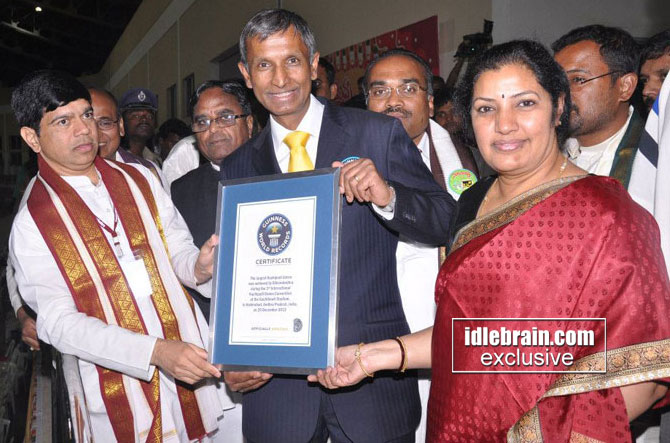 The 'Mahabrinda Natyam', a performance by 5,794 artistes, comprising from the tender but nimble-footed three-year-olds to the 65-year-olds, bagged a coveted place in the Guinness Book of World Records for the "Largest Kuchipudi Dance" at the GMC Balayogi Stadium here on 25th December,2012. Organised by SiliconAndhra to mark the close of the 3 International Kuchipudi Dance Convention, it was a tribute to the late Vempati Chinna Satyam, one of the greatest masters who practised the 600-year-old dance form and who has thousands of disciples across the globe.

Praveen Patel, adjudicator for Guinness Records, announced that he was delighted to witness the 'Largest Kuchipudi Dance' and handed over the certificate to SiliconAndhra International Kuchipudi Dance Convention Chairperson, Union Minister D. Purandeswari and State IT Minister Ponnala Lakshmaiah. Founder President of SiliconAndhra, Anand Kuchibhotla and President Deenababu Kondubhatla,Vice-Chairman Dilip Kondiparthi,Raju Chamarthi,Convenor Phani Madhav Kasturi,Dr. J Chennaiah watched with satisfaction "a job well done". The earlier record was set at the second such convention at the same venue in 2010 when 2,850 artistes performed.

It was as fitting a tribute that anyone could pay to the master and as the 'Mahabrinda Natyam' came to a close, thousands at the stadium at Gachibowli, gave a standing ovation.

It was also an occasion for 'Telugu pride' to be showcased like never before and it was apt too, considering that it was just two days before the Inaugural of the World Telugu Conference in Tirupati.

Ms. Purandeswari, who has practiced Kuchipudi for eight years and Bharatnatyam for five years, said it was a great moment. The Minister, a disciple herself of Vempati Chinna Satyam Master, said it was a moment of pride for her to be present in the tribute to the legend, who "was as great as Siddhendra Yogi of the 13th Century".

Mr. Lakshmaiah said it was a joyful moment for Telugus and Kuchipudi and appreciated SiliconAndhra for working towards development of Telugu culture.

Writer-Poet-Actor-Director Tanikella Bharani said blessed were the artistes and those at the stadium, and said that he is lucky have born as a Telugu speaking person.

GMC Balayogi stadium looked colourful with the Kuchipudi dancers. The group dance program began at 06.04 pm with the 'Brahmanjali' dance item composed by Vempati China Satyam. It ended at 06.50 pm with the 'Dasavatarasabdam' dance item designed by him. The organizers expected that nearly 4,500 artists will participate in the program but 5,794 dancers performed in the sammelan and mesmerized nearly 15,000 audiences.

Many Kuchipudi Gurus participated in Kuchipudi Natya Sammelan event. Popular Kuchipudi teachers like Vedantam Radhesyam, Ramalinga Sastry, Bala Kondala Rao, Eleswarapu Chalapati Sastry, Bhavani and Tadepalli Satyanarayana participated in the event.

The next Kuchipudi Natya Sammelan will be held in 2014 and she wished more number of Kuchipudi dancers will participate in the programme

Siliconandhra chief and International Kuchipudi dance Sammelan organizer Kuchibhotla Anand was in tears after the program. He thanked every person who is involved in making the program a success. He informed that seven thousand artists from nearly 18 countries came to participate in the program and proved that Kuchipudi is going to have a great future. He called parents to make their children learn Kuchipudi Dance.