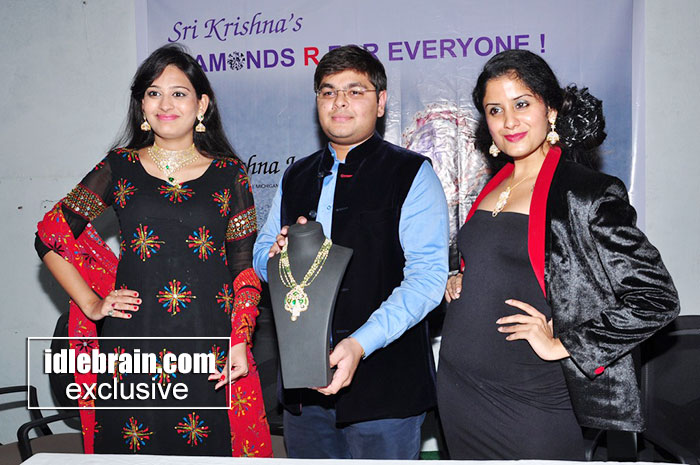 26 September 2014
Hyderabad
Diamonds have always been hugely aspirational. Every woman would like to own them as they connote beauty, elegance, style and sophistication; diamonds are a reflection of the exquisite taste of the woman who wears them.
Sri Krishna Jewellers is known for the quality of its diamond jewellery. Over the years the brand has built a great reputation of being the leader in this category. Sri Krishna Jewellers has also constantly innovated to create exciting offerings for customers.
Continuing on this journey of innovation and keeping in mind the desire of consumers, On Friday Sri Krishna Jewellers Launched new campaign called "DIAMONDS R FOR EVERYONE". In this one, Sri Krishna Jewellerspresenting an entire range of diamond Jewellery, to reach out to every single woman who aspires to own diamonds.
"These affordable range is available from ` 14,999 onwards. We are offering certified diamonds at as low as ` 49,900 only per carat" Mr Akhilesh Agarwal, official spokesperson, Sri Krishna Jewellers said.
"This range consists of exquisite designs across finger rings, earrings and pendants and is designed to appeal to a wide spectrum of consumers. For the first time in the Hyderabad Jewellery industry we are offering Chennai rates for the entire range. As a part of twin cities jewellery association, we believe this decision will help middle class people to own diamond jewellery. This offer is available in this Dushera, Bonalu, Deevali and Dhanteras seaseon(26th Sep to 26th Oct)" he added.
"At present we are focussed on catering to market demands. With more and more consumers aspiring to own diamonds, Sri Krishna looking to create exciting products that addresses this need. By launching this range, we are hoping to create desire among a lot of new audiences, including people who have never owned diamonds previously." Mr Akhilesh Agarwal concluded.
Famous Models displayed the new collection from Sri Krishna Jewellers on this occasion received great applause from the invitees.