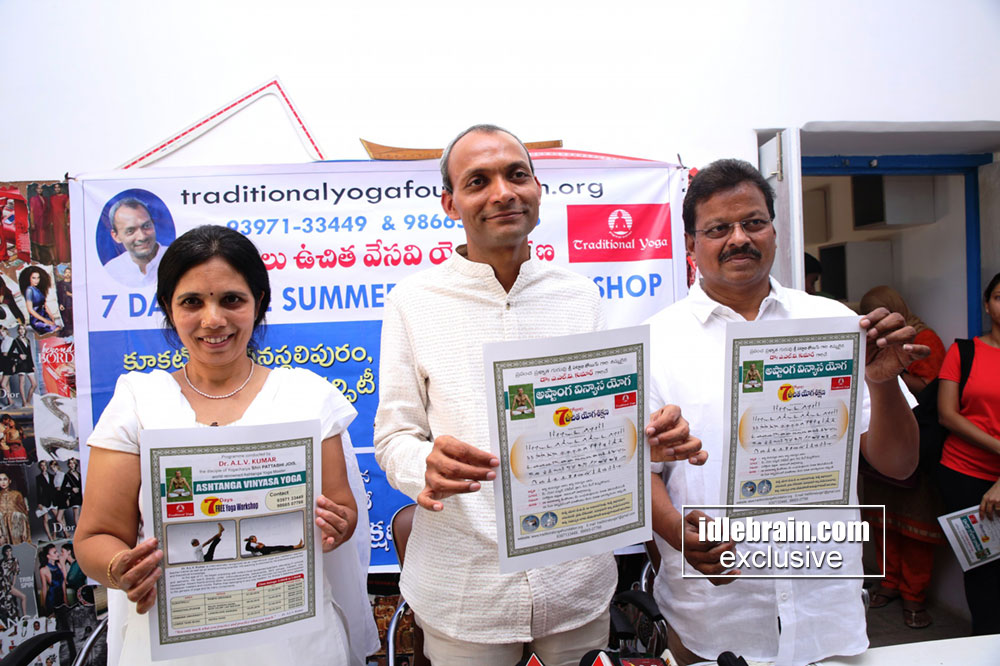 28 April 2016
Hyderabad
Traditional Yoga Conducting Free Ashtanga Vinyasa Yoga and Health Awareness camps in Various palceses of Hyderabad from May 1st to 28th
Hyderabad,April 2016:Traditional Yoga Foundation, An non-profit charity organization conducting 7-days Free Summer Ashtanga Vinyasa Yoga workshops in Hyderabad. As a part of this curtain raiser, International yoga guru Dr. ALV Kumar Released Poster at Joyess Studio, Banjara Hills.
Dr. Kumar and his team demonstrated here few Yoga poses/Asanas and explained, what is going to be taught in these workshops.
Adressing Media, Dr ALV kumar said that "Each workshop will be conducted for a duration of one week and includes Asana, Pranayama, Diet & Nutrition and also remedies for various ailments like Diabetics, Hypertension, Obesity, Arthritis, Spinal & Knee Problems.
The schedule of workshops is as under, The classes will be of around 2 hours duration in the morning 5.00 am to 7.15 am. from May 1st to 7th, Kukatpally (Ramya Gardens), 8th to 14th Vanasthalipuram(Rajiv Gandhi Park- NGO colony), 15th to 21st, Osmania University(Land Scape Garden), 22nd to 28th, Lower Tank bund (Indra Park) conducting in various Placeses"said Mr Kumar.