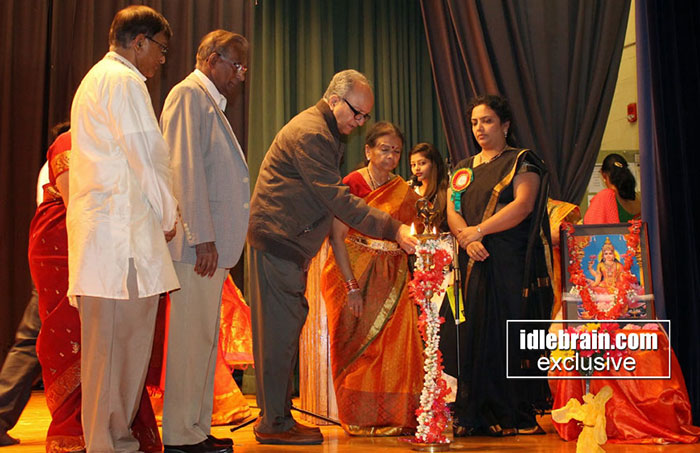 01 November 2014
Hyderabad
The Telugu community of Greater Toronto Area celebrated the festival of Diwali with great zeal in Toronto on Saturday. Over Six hundred Telugu people joined the celebrations at a Don Bosco Secondary School auditorium in Toronto organized by Telugu Cultural Association of Greater Toronto. Several Telugu families from surrounding cities Toronto, Markham, Brampton, Mississauga, Kitchener, Waterloo, Cambridge, Hamilton, Milton and other areas have also joined the six hour long program that is packed with music, drama, dance, comedy and many more.
The Venue was decorated with grace and artistry Rangoli with "Lakshmi" idol welcoming the Telugu Cultural Association of Greater Toronto (TCAGT) Members, Families and Friends.
The festival has begun with "Deeparadhana" and Canadian National Anthem. Sri Veluvolu Basaviah, Bose Vemuri, Cherla Sastry, Ratna Sastry, Sirisha and Srinivas Gadepalli lit the light. Telugu Association President Anitha Bezawada delivered the welcome address.
Several cultural programs, performed by Telugu people, attracted the audience. Sai Krishna and Sai Kiran Udari delivered the devotional song Sharanu Sharanu O Ganadhipa.
Carnatic Music performed by Smt Ratna Sastry, Vishnavi and Sumathi Timmana. Mrudhu has played Veena. The audience enjoyed a Medley Dance Performance choreographed by Giridhar Naik. Classical Dance Pusshpanjhali by Balavima Narthanalayam's and sizing dance performance by Starz Dance Crew enthralled all the ages of the community members.
Kids tollywood Medley by Neha Jarabandi, Sumedh Gadepalli and Akhil Jarabandi, Movie Dance by Madhav Bezawada and amazing dance Performances by Balaji Naik attracted the audience. Latha Kundurpi's comedy Mono Act was hilarious.
Surya Bezawada, advisor to the Executive committee, provided Diwali Greetings and introduced the Chief Guest. Honourable MP Kirsty Duncan, Canadian medical geographer and current Member of Parliament(Etobicoke North) was delived the key note address. MP Kirsty Duncan greeted and spoke few sentences in Telugu and surprised the entire audience. Her efforts in speaking telugu attracted huge round of applause from the audience. She acknowledged the executive committee, and the vibrant Telugu Community for the continuous preserving, promoting Telugu language and culture for the past twenty five years. She presented appreciation certificates and awards to the performers.
Global Telugu Lions Club President Ln. Srinivas Gadepalli provided Diwali greetings. He informed the club global charitable activities and events to the audience. He encouraged the audience to volunteer in club events and activities. Former Global Telugu Lions club president Koteswar Rao Polavarapu explained the recent eye restoration camp details a at his native village in India.
TCAGT Secretary Sailaja Payidiparty, Directors, Hima Yeso, Radhika Bhaisya, Kalyani Bottu, Rajasekhar Jarabandi, Srinivas Gadepalli, Pankaj, Treasurer Sirisha Gadepalli, Harika Kalluri and Uday Kalluri were actively participated in the celebrations. Volunteering team lead by Vishal, Harsha, Manhor and Durga was a huge help and support to the executive committee and to the entire event management.
Sponsors of the event State Bank of India -Toronto Branch, Vince Thomas-Royal LePAGE, Murarilal Thapiliya-Lawyer, Rao Vajha-Century21, Vijay Bhandari-Swift Immigration Solutions, and Rajashekar Jarabandi-Maple Inc were also present.
Davi Layal group presented Spectacular Special Punjabi Bhangra live performance. Full of musical program entertainment continued until midnight. Authentic and traditional freshly cooked festive food was served. Secretary Sailaja Payidiparty, provided vote of thanks and TCAGT event ended with chanting Indian National Anthem. Indeed, the event has brought fun, excitement and high performance with a great success.