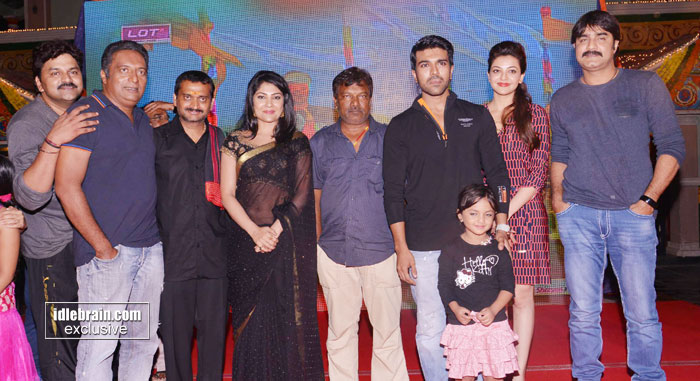 07 August 2014
Hyderabad
Krishna Vamsi - Ram Charan's Govindudu Andari Vaadele (GAV) teaser is launched at huge set erected in Nanakramguda. Paruchuri Venkateswara Rao launched the teaser -
GAV is my 4 years of wait for Krishna Vamsi - Ram Charan
Ram Charan said, "Krishna Vamsi is an asset to Telugu film industry. After Magadheera, I wanted to do a soft movie. I met Krishna Vamsi and asked him to do it. GAV is a result of 4 years of my trail with Krishna Vamsi. Never wanted to soft film after Orange without Krishna Vamsi. I wanted to do family film only with Krishna Vamsi. I will get more family audiences with GAV. The casting is very important for any film. The film got completeness after Prakash Raj and Jayasudha joined the team. I performed well because of Prakash Raj. This is my 3rd film with Kajal. She is looking gorgeous. I am fan of Kamalini in Anand and Godavari."
Ram Charan gave me a chance - Krishna Vamsi
Krishna Vamsi said, "I had lean phase for last 3/4 years. I was feeling low, but was willing to fight. That's when I remembered Chiranjeevi. During an ad shoot with Chiranjeevi I liked the Land Cruiser he used. Chiranjeevi called me one day and gifted me that car. I approached Ram Charan with low level of confidence. He gave me his chair and sat in front of me. He gave me so much of respect. Chiranjeevi gave me 'veyyi yenugula balam'. He said that Ram Charan will do movie and then asked me to narrate subject. Ram Charan has a good culture that can be rarely seen these days. Nobody gave me chance so far, I gave chances to many actors. Ram Charan is the first actor who gave me a chance. GAV is a happy film that lasts for 50 years. Sameer Reddy is a pillar of this movie. I have been chasing Yuvan Shankar Raja for 5 years. Finally got him for GAV. There is a memorable song in GAV that stays forever which is written by Suddala Ashok Teja. This is the story of a London boy finding his roots in a village of Andhra Pradesh. I observed and studied Charan and used it effectively for GAV."
Prakash Raj said, "We are seeing trailers with gravity defying fights and obscene scenes. GAV has pleasant scenes in teaser. I enjoyed working in a movie after a long time. I feel lucky to work with Krishna Vamsi for GAV. This film is about human relations and how to treat your parents. I saw Ram Charan before launch of Chiruta. He is growing strength to strength. Krishna Vamsi will show a new angle in Ram Charan with GAV"
Paruchuri Venkateswara Rao said, "They used to predict good films as 100 days movies. Now we can say Govindudu Andari Vaadele as 100 crore film. Ram Charan is going to be seen in a new avatar. Its a family entertainer with actors like Prakash Raj, Jayasudha, Sreekanth and Kamalini."
Bandla Ganesh said, "Ram Charan is the most wanted now. Thank you Prakash Raj for giving 40 days call-sheet. Telugu film industry will be proud of Krishna Vamsi after GAV. Everybody will own this film. GAV is one man show by Ram Charan. Yuvan Shankar Raja is giving wonderful songs."
Kamalini Mukherjee said, "GAV has beautiful locations and music. Krishna Vamsi is an intense director. Everybody is going to love this film."