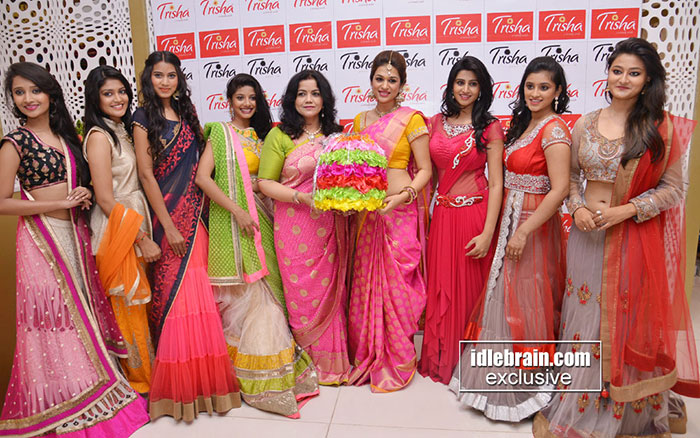 26 September 2014
Hyderabad
"NAVARATRI & DUSSHERA SPECIAL"
A CELEBRATION OF INDIAN WEAVES & CONTEMPORARY COLLECTION AT TRISHA
ROAD NO-36,JUBILEE HILLS
ACTRESS SHARADDHA DAS SHOWCASES THE FASCINATING COLLECTION
ALONG WITH ARRAY OF MODELS
.
It's a Celebration of Fashion, Weavers and Indian Culture as Trisha unveils the most fascinating collection of town for the festivities of Dusshera & Navaratri- A Collection showcase features scintillating ghagra's, vibrant Half-Sarees, fascinating Anarkali's flowy gowns, Classic & Elegant Sarees of umpteen varieties.
Trisha- A Designer Store for Everyone & Store for all occasions.........That's what describes TRISHA, Trisha by Amrita Mishra is a one stop fashion house for all women where the "designers reflects the inner you", it's a showroom which showcases a unique blend of exquisite, Simple and colorful ensembles.
On the occasion of launch of the Special Collection for the festivities-Designer Amrita Mishra said- "It's festive time and people go all out to find something good, classy & traditional. So keeping in the view of tradition and fashion, I have designed a lot more fushion wears. The fusion is an amalgamation of "Clasic Traditional and Elegant Modern" the mix has resulted in a never seen before designs and styles.
Designer Amrita Mishra added that Trisha's Collection of Festivities features Anarkali's Ghagra's, Half Sarees, Kancheevaram Sarees, Designer Pattu Sarees, Designer Sarees, Creative Blouses, traditiuonal & classic Suits, dress material and many more.
The launch occassion saw the presence of Actress Shraddha Das showcasing one of the unique ensembles from the designer Amrita Mishra Collecttion. The showcase continued with the models exhibiting some creative ensembles from the mesmerising collection of Designer Amrita Mishra.
The event concluded with Actress Shraddas Das, Models and Designer Amrita Mishra posing with the Navaratri & Bathkumma goodies.