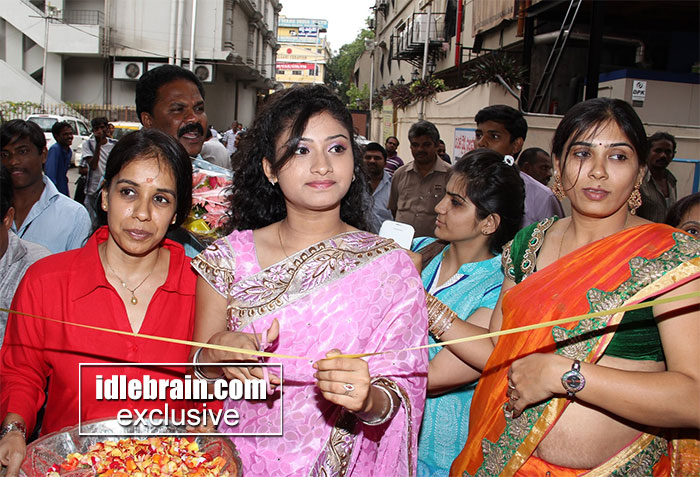 20 June 2013
Hyderabad
Hyderabad :  Day by Day fashion Industry adds new colours and designs. Any new verity of cloths launched in the world, Hyderabadies are always come forward to taste the freshness. Famous designers are very much interested to introducing their products here to tap the fashion market. There is a lot of speciality in the designs where we use at marriage… like functions. Every Bride or Groom wants their style of special designs at the occasion which comes ones in a life. That's way many companies are showcasing their verities through special exhibitions in this ongoing Mansoon season. This Exhibition Inagurated By Tollywood Celebrity Vishnu Priya Today at Kamma Sangham Hall, Ameerpet.
Mansoon season started and the excitement has also started for the shoppers to grab new collections for the season. New stuff, quality, exclusivity what people look when they shop specially when they are preparing for the biggest celebrations for their life time that is wedding. Not only the bride and groom the attendees of the celebrations are also wanted to look special in the event. It is very difficult for anyone to buy everything special so they look for exhibitions to commence in the city now quite a few exhibitions are happening but the prices which they are really looking forward Parinaya Events wedding fair is such one destination which is providing a wide range of collections under one roof and also at very much affordable prices.
Prayaas Events and exhibitions conducting wedding fairs across the country in cities like Banglore Chennai. It has also covered places like Vizag, Vijayawada, Warangal, Kareem Nagar, Kadapa in Andhrapradesh.  This time Prayaas Style Affair is displaying over 1,50,000 designs of 90 master designers collection from 20th June to 22nd June at kamma Sangham hall, Ameerpet,  Hyderabad. They have showcased designer sarees,  blouses, kurtis, Handloom Sarees, Real Jewellery, Diamond, Gold jewellery  imitation jewellery, life style accessories from All Over India. like designer purses, foot ware and some designs of handlooms as well. This Exhibitions Will open to public 10 A.M to 9 P.M three days.